Devastation for business and home owners as Clonmel is under water following the worst floods on record.
Large parts of Clonmel in County Tipperary remain under water after the River Suir and River Annner burst their banks. A major emergency plan is underway and 2,000 personnel are involved in the evacuation and containment operation.
Soldiers from Kickham Barracks are rescuing people stranded by flood waters. Forty eight families have been evacuated from their homes and 150 houses and business premises have been affected.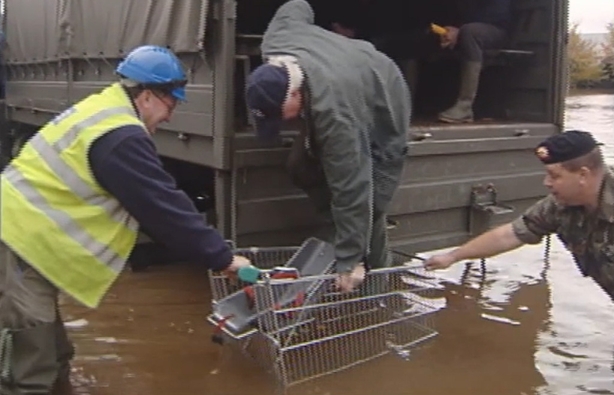 The army distributed sandbags but for many it was pointless. Flood victim Liz O Brien is distraught,
I feel devastated, I'm just so sick of it.
A number of householders were told their homes could not be insured and some like Annette O'Donnell have lost everything,
You just do the best you can, you come from that, you do the best you can.
There is also anger that preventative measures have not been taken since the floods of 2000. Mayor of Clonmel, Councillor Denis Dunne says there was a promise of one million pounds for the Clonmel Borough Council to alleviate the problem, but the money did not arrive.
Independent Teachta Dála for Tipperary Séamus Healy believes,
The total inaction of the minister and the government is now responsible for the very severe flooding here in Clonmel.
It is not known what, if any compensation will be available to those affected by the floods.
An RTÉ News report broadcast on 29 October 2004. The reporter is Damien Tiernan.