Some disappointment in Seán McDermott Street when Pope John Paul II does not stop at the shrine of Matt Talbot.
The people of Seán McDermott Street in Dublin's north east inner city waited from early morning for the arrival of Pope John Paul II. Hopes were high that he would stop at the shrine of venerable Matt Talbot at Our Lady of Lourdes Church on Seán McDermott Street.
In preparation for the Pontiff's visit the street is decorated with bunting and banners including one on Saint Mary's Mansions, directly opposite the Church of Our Lady of Lourdes, stating 'John Paul Rules OK'.
All afternoon the Dublin Concert Band played through its repertoire and as evening arrived an impromptu party broke out with those waiting singing a stirring version of 'A Nation Once Again'.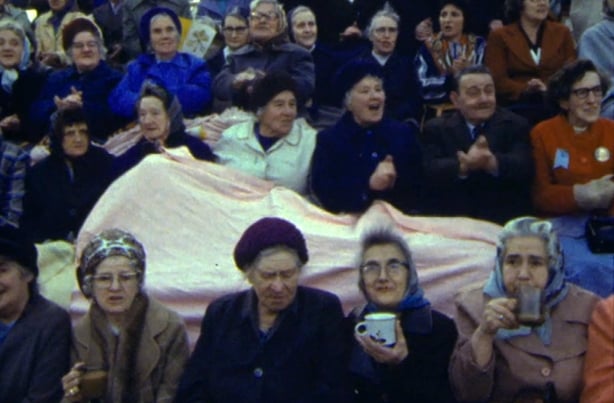 When the great moment finally arrived, the papal cavalcade slowed down outside the church and Pope John Paul II raised his hat in salute to the people who had waited for hours to see him. The 'popemobile' then disappeared around the corner to Connell Street.
Although the Pontiff's visit to Seán McDermott Street lasted only minutes, one woman said,
It was all worth it, it was the greatest day of her life.
An RTÉ News report broadcast on 2 October 1979.