'We Knew Matt Talbot' is the story of the life of Matt Talbot (1856 - 1925) through the eyes of people who knew him.
Matt Talbot, the saintly Dublin working-man, who died in 1925, is a vague and shadowy figure for most of us. But the men and women who lived and worked and prayed beside him in the Dublin of those days remember him as a striking and lovable personality.
RTV Guide, 20 March 1964, p.18
Anecdotes illustrate his piety and charity, and the places that were important in his life namely his home, his work and the church.
He lived on Rutland Street, worked in the docklands and went to the Jesuit Church in Gardiner Street.
Included is an interview with Seán T. Ó Ceallaigh, who was President of Ireland from 1945 to 1959. Workmates, neighbours, friends and acquaintances also provide their memories of Matt.
'We Knew Matt Talbot' was produced by Radharc for RTÉ and was broadcast on 25 March 1964. The programme was narrated by Rev. Peter Lemass and produced by Rev. Joseph Dunn.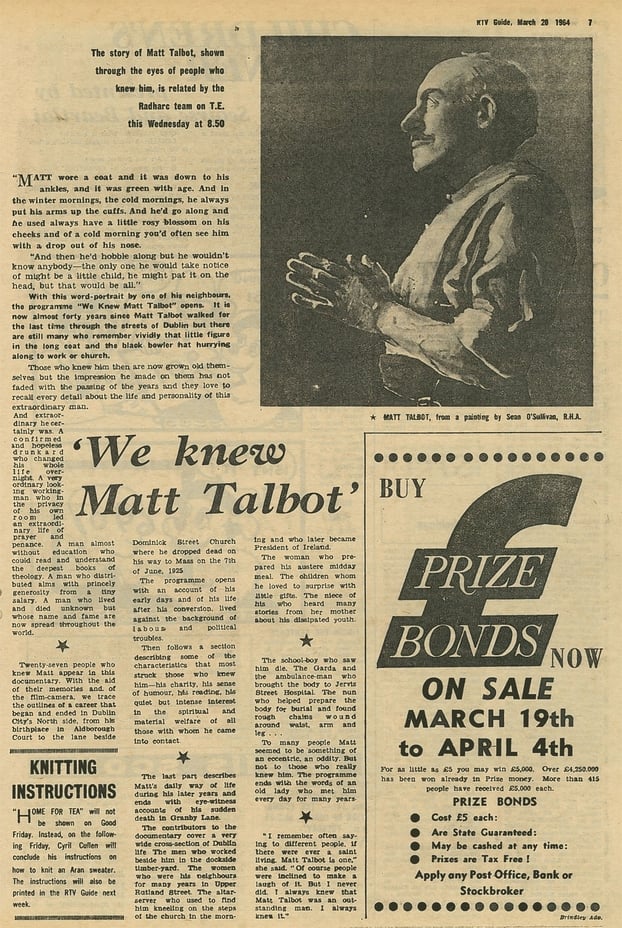 RTV Guide 25 March, 1964 p.7