Negotiating the removal of barricades on Belfast streets and the location of British Army barriers.
Following the outbreak of civil unrest and rioting, the British Army was deployed in Northern Ireland on 14 August 1969. The violence which took place in Belfast led communities to construct barriers on residential streets.
British Army troops are working with the residents and officials in Belfast Corporation to remove the barricades and replace them with peace lines. The officer interviewed here describes what will go up as,
A system of barricades blocking off individual streets.
Behind a barricade, another soldier attempts to explain to residents why the barrier on their street will be removed and replaced, but in a different location.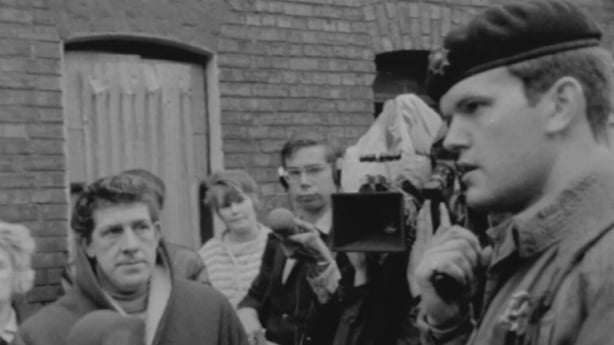 Soldier speaks to residents on Belfast street (1969)
An RTÉ News report broadcast on 11 September 1969. The reporter is Pat Sweeney.