The opening scenes from the very first episode of the RTÉ drama series 'Fair City'.
It is breakfast time in homes in Ragnall Place and viewers are introduced to the residents of Carrigstown on the northside of Dublin.
This opening clip to the very first episode of 'Fair City' features Bernie Kelly (Ger Ryan), Mags Kelly (Eileen Murphy), Charlie Kelly (Tom Jordan), Barry O'Hanlon (David Nolan), Mary O'Hanlon (Doreen Keogh), Johnny One (Éanna Mac Liam), Lily Corcoran (Áine Ní Mhuirí), Sharon Boland (Angela Harding), Jack Flynn (Jim Reid), Paddy Clarke (Charles Roberts), and Anne Clarke (Martina Flynn).

Fair City is RTÉ's weekly urban drama serial set in the fictional Dublin suburb of Carrigstown. It began broadcasting in September 1989 and was originally shot on location in Drumcondra on the northside of Dublin. An outdoor set was then built on the RTÉ Donnybrook campus where production now takes place.
The first episode of 'Fair City' was broadcast on 18 September 1989.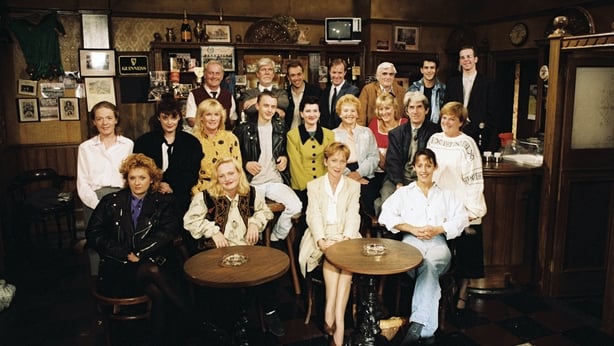 Fair City Cast in McCoy's Pub (1989). Photo by Des Gaffney
Sitting in the front row, from left to right, are; Sighle Toibin as Noeleen McCoy, Karen O'Brien as Clare Bowen, Frances Quinn as Dr Jennifer Bowen and Ger Ryan as Bernie Kelly.
In the middle row, from left to right, are; Ruth McCabe as Kay McCoy, Martina Flynn as Anne Clarke, Jean Costello as Rita Doyle, Eanna MacLiam as Johnny One, Kira Carroll as Helen Doyle, Doreen Keogh as Mary O'Hanlon, Caroline Rothwell as Linda O'Malley, Charlie Roberts as Paddy Clarke, and Eileen Murphy as Mags Kelly (this role was later played by Joan Brosnan Walsh).
In the back row, from left to right, are; Oliver Maguire as Noel McCoy, Don Foley as Sean O'Hanlon, Tony Tormey as Paul Brennan, Pat Nolan as Barry O'Hanlon, Tom Jordan as Charlie Kelly, Darragh Kelly as Tony Kelly and Alan Howley as Tom Bowen.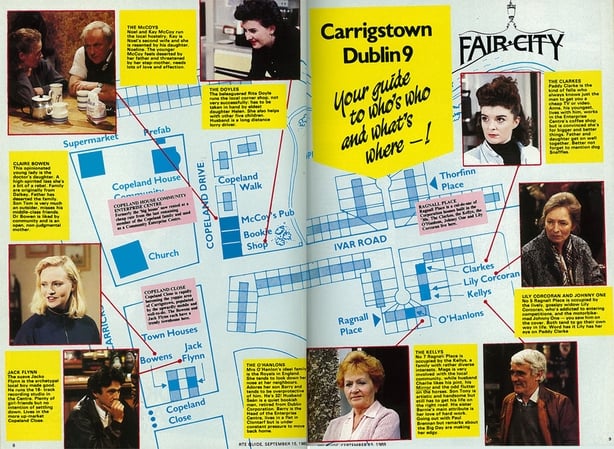 Fair City Fact File, RTÉ Guide 15 September 1989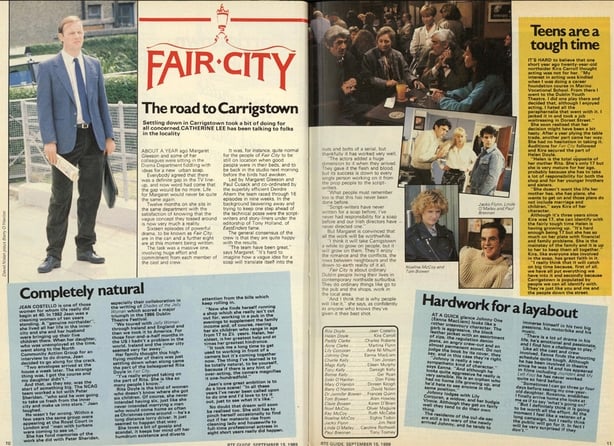 Fair City The Road to Carrigstown, RTÉ Guide 15 September 1989