Thirty jobs lost as Ballisodare watches Odlum's Mill being torn down with fears over employment for future generations.
The diggers are in and demolition work has begun at the Odlum's Mill in Ballisodare County Sligo.
An important part of the area's history comes to a sad end.
The mill was owned by the Pollexfen family during the last century. Susan Pollexfen was the mother of poet William Butler Yeats and artist Jack Butler Yeats.
For many local people, the demolition of the mill represents the disappearance of a place where they spent their working lives. For the younger people of Ballisodare, it means the loss of a potential place of employment that had been available to generations that had gone before them.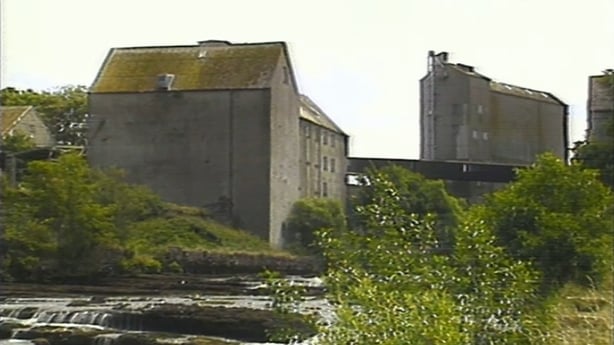 Odlum's Mill Ballisodare, Co Sligo (1989)
The Ballisodare Mill had been powered by the local river to be now replaced by a private hydro generating system, which worries local anglers.
Former mill worker Michael Benson gives his account of what the closure of the mill means for the community, where jobs were handed down from father to son.
Not alone has the mill been closed but the mill has been taken off the map.

An RTÉ News report broadcast on 26 July 1989. The reporter is Tommie Gorman.