The people of Dunmanway in Cork are the stars of this opening sequence for 'Hall's Pictorial Weekly'.
The geographical centre of West Cork, Dunmanway (Dún Mánmhaí in Irish) is a late 17th century planned town, built on and around two tributaries of the River Bandon. The birthplace of Irish republican and London GAA stalwart Sam Maguire and the man whose name is on the cup played for in the All Ireland Senior Football Championship.
People have come into Dunmanway to do their shopping today, and work is going on both indoors and outdoors to ensure the town looks its best.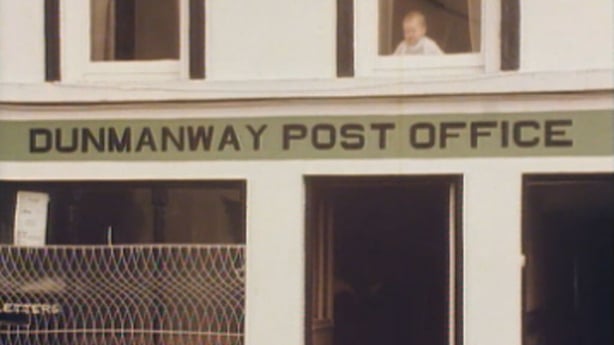 Dunmanway Post Office (1979)
Once a week, from June to September, the 'Hall's Pictorial Weekly' film crew would arrive at a town or village in any county in Ireland. They would film the people and the place and return to RTÉ where the footage was edited and put to music.
This short film of around one minute's duration formed part of the opening sequence for that week's episode. But no-one knew which location had been chosen, and it was not advertised as part of the programme billings in the RTÉ Guide or newspapers.
So with this in mind, people the length and breadth of the country tuned in religiously, in case it was the turn of their town or village to have its few minutes of fame.
This episode of 'Hall's Pictorial Weekly' was broadcast on 27 June 1979.