A new Guinness research laboratory is opened by the Taoiseach Sean Lemass at St James's Gate in Dublin.
The new laboratory is considered to be one of the most modern facilities in the brewing world. Experts from around the world joined Sean Lemass in a tour of the new facility which will engage in research in the areas of organic, inorganic and physical chemistry, biochemistry, microbiology and bacteriology.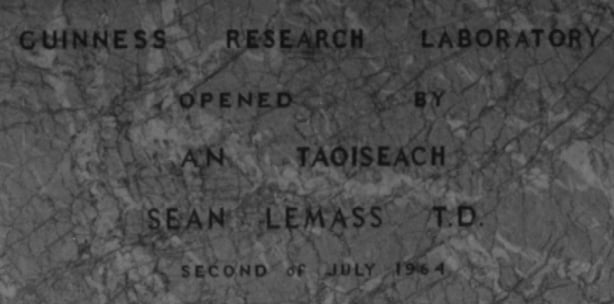 Guinness Laboratory Plaque Unveiled (1964)
The new building, which replaces a former research facility on Watling Street, consists of a library, three constant temperature rooms, a cold room, a room fitted with centrifuges, two laboratories fitted for the use of radioactive tracer compounds, a room for optical instruments, a laboratory for general analytical work, and a special laboratory for chromatography.
An RTÉ News report broadcast on 2 July 1964. The film shown here is mute.