Song, dance, and horseshoe throwing are among the many activities at the currach racing festival in An Spideál, Galway.
The quay in An Spideál is packed with spectators for the annual currach races.
There are categories for currachs large and small, and competitors travelled from Donegal, Kerry and all over Connemara to participate.
People can try their hand at traditional games such as horseshoe throwing, or test their fishing and turf saving skills at separate contests being held today. Traditional music and dancing provided by the aeríocht adds to the atmosphere.
The regatta is just one part of Féile na gCurachaí, which runs over the weekend. Other events include a road race, an art exhibition, barbeque and a Queen of the Festival competition.
Bríd Bean Uí Dhonncha from An Cheathrú Rua fought off the competition to win the men's and women's race with her husband Colm Mac Donncha, but is modest about her victory,
Ní raibh aon cleachtadh déanta agam.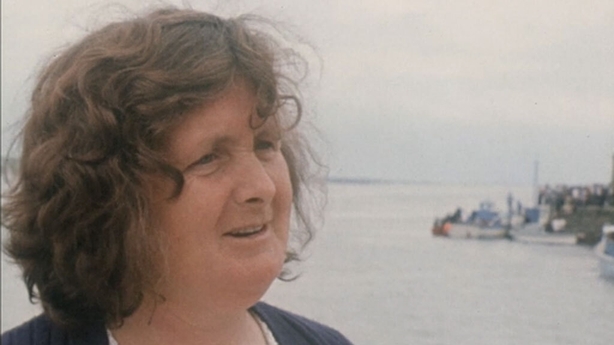 Bríd Bean Uí Dhonncha, An Spideál (1979)
First prize in senior race was taken by a local team from An Spideál consisting of Cóilín Ó hIarnáin, Domhnall Staunton and Seamus Ó Dioláin.
The winners will be presented with their awards at a céilí to be held this evening.
An RTÉ News report broadcast on 12 June 1979. The reporter is Bríd Mhic Dhonnchadha.