A naomhóg a traditional boat built in Kerry will have a new home in Poland at the maritime museum.
This currach, or naomhóg as it is called in Kerry, was built by Eddie Hutchinson of Feothanach. A well known local boat builder, he brought it to Dingle for a short sea trial. He has built about fifty boats so far, and is pragmatic about where this one will end up,
The Poles have bought this, I don't know what they'll do, they are supposed to put it in a museum. But I am paid, and they can do what they like.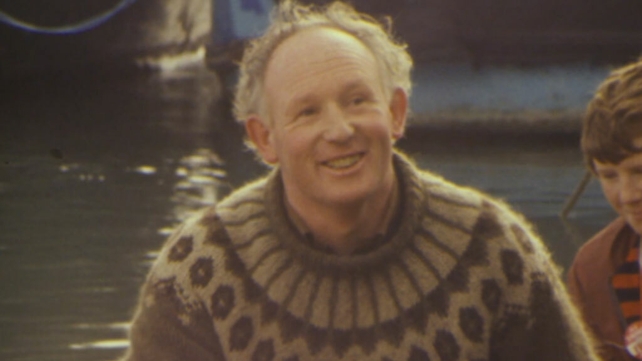 Eddie Hutchinson (1984)
Doctor Seán MacGréil, chief archaeologist of the British Maritime Museum in London, has come to collect the boat for the Maritime Museum in Gdansk. He explains the exchange agreement in place between the two institutions,
They wanted to have examples of early boats and boats that are no longer in use around the world and so we were able to help them. Similarly we want examples of boats used in the middle of Europe, and they were able to help us.
Currachs are in fact enjoying a revival in parts of Europe over the last few years, and are now in rowing clubs and museums in France and the United States.
The West Kerry Development Co-Op are now preparing for the St Brendan World Currach Championships in June, to coincide with the 1500th anniversary of the birth of Saint Brendan, the Kerry saint and legendary seafarer.
Co-Op spokesman Ted Creedon tells RTÉ News about some of their plans for the celebrations,
One of the main features would be an international currach race, perhaps we might even call it the world currach championships.
An RTÉ News report broadcast on 6 March 1984. The reporter is Michael Walsh.