The Guinness family is to sell its main home in Ireland, Farmleigh House in the Phoenix Park.
Edward Cecil Guinness, first Earl of Iveagh and great-grandson of Arthur Guinness purchased Farmleigh House in 1973 which was at that time a Georgian residence. From 1881 to 1884 he extensively extended and refurbished the house, turning it into a Victorian mansion. The Ballroom wing was added in 1986.
Now the Guinness family have decided to sell their main home in Ireland. The sale is being handled by auctioneering firm Hamilton Osborne King.
With 78 acres of parkland incorporating 25 acres of gardens, the house itself has six reception rooms, 20 bedrooms, 14 bathrooms, the aforementioned Ballroom and a wood-panelled library.
Fixtures and fittings are not for sale, and neither are the books in the library's collection.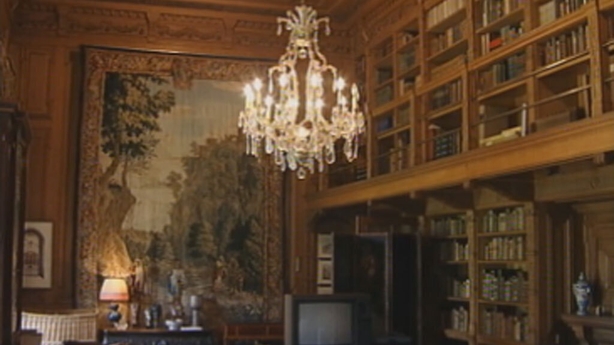 The library, Farmleigh House (1999)
Is it possible to put an asking price on such a beautifully preserved and historic property? The answer is yes, says Hugh Hamilton,
It's so unique that it's very difficult, and that's why we've just suggested substantially in excess of £10 million.
There is talk that Farmleigh could become a future Taoiseach's home, but only time will tell who will be able to afford such a considerable sum.
An RTÉ News report broadcast on 1 June 1999. The reporter is Róisín Duffy.