Summertime is for swimming and rowing in Ringsend.
Ringsend in Dublin located along the Rivers Liffey and Dodder and proximity to the Irish sea, has long traditions long associated with water.
These traditions live on to this day as children swim at Grand Canal Dock during the summer months and rowers take to the sea.
Summertime is swimming time.
Éamonn Mac Thomáis describes how the children of Ringsend are brought to Grand Canal Dock from an early age to be baptised in the water and from then on they become great swimmers. Swimming is not the only popular water sport in Ringsend. There is also a great tradition of rowing dating back to the days of the skiff racing. What the rowers of today do for pleasure, their forefathers did for work rowing out from Ringsend to meet the ships to take the passengers to shore.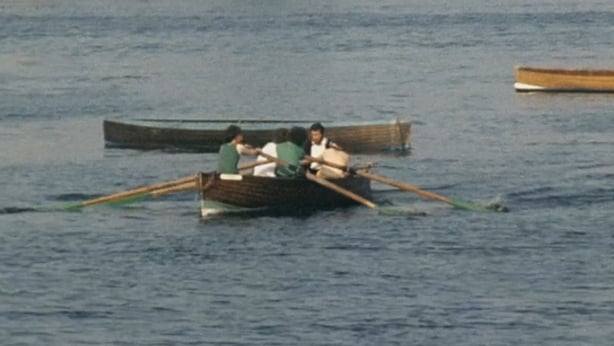 Ringsend Rowers (1979)
I suppose there's no better place to be on a lovely summer's evening than out there in the water rowing away to your heart's content.
'Dublin A Personal View: Raytown - Ringsend' was broadcast on 5 June 1979. The presenter is Éamonn Mac Thomáis. The series was filmed and produced by David Shaw Smith.