Crowds flock to Borris in County Carlow to see the skills of the top sheep shearers in Ireland.
An increase in the national sheep flock in recent years means that more sheep need to be sheared. In Borris, men and women for whom shearing is a profession competed against each other watched by the judges and sheep farmers from all over the country. Visiting shearers from Australia, New Zealand and Wales also came to Borris to see the Irish perform.
Former Welsh champion Arwin Jones explains the process,
You've got to learn the pattern and the method of shearing, where to stand, and have the sheep in the right position.
Sounding easier than it looks, some of those competing in the Senior Championship are able to remove a fleece in less than a minute and a half. Marks are given for speed and technique, but also deducted for cuts and bruises to the animal.
Billy Codd from Aughrim, County Wicklow was declared the 1989 Irish Sheep Shearing Champion. A truck driver for nine months of the year, in summertime he is busy travelling around Ireland shearing sheep,
You try to keep all these farmers happy, they all want you on the one fine day.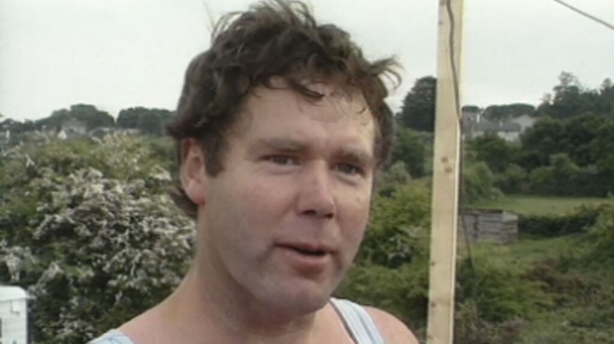 Billy Codd (1989)
While most people in Borris today will head home the new champion is off to work,
While the light is on the sky, and while the sheep have got the wool, and the farmers are after you, you've just got to shear.
An RTÉ News report broadcast on 29 May 1989. The reporter is Joe O'Brien.