Scotland, Wales and Ireland compete in the Celtic Cup for hang gliding at Mount Leinster in County Carlow.
Four members of the Irish Hang Gliding Association met in the 'Off The Wall' cafe to chat with Ultan Guilfoyle and discussed their recent success in the International Celtic Cup Competition held at Mount Leinster on 23-24 May 1981.
Maxie, Melanie, Pat and Randall explained how they run a hang gliding competition, the merits of female gliders like Yvonne O'Sullivan and how they are looking forward to sending a team of 12 to represent Ireland in the United States to take part in a competition to attain world distance and height records.
Huge kites like wings...fly through the air
Pat Molloy spoke about his individual distance record achieved during the Celtic Cup for flying 36 miles from Mount Leinster to Kilcullen.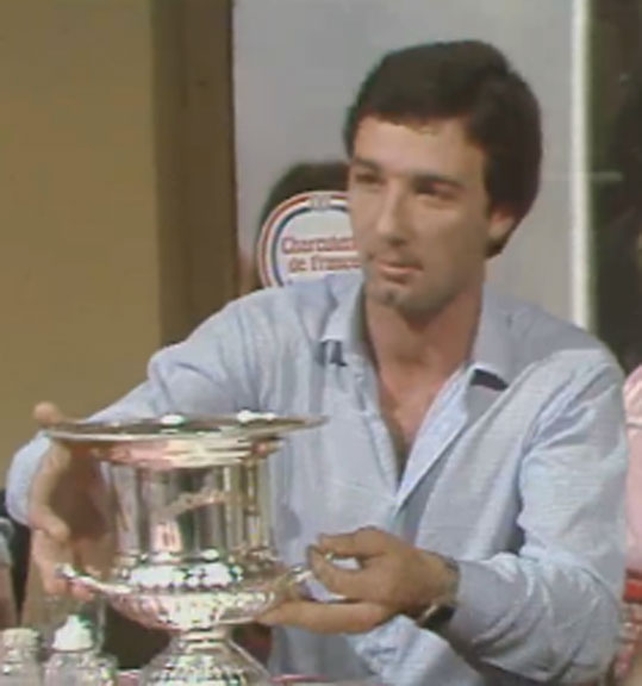 Hang Glider Pat Molloy (1981)
'Off the Wall' was a summer programme broadcast on Mondays during July and August in the 'Youngline' slot on RTÉ One. It was set in the 'Off The Wall' Cafe and was presented by Ultan Guilfoyle, supported by comedian Billy McGrath and the house band Metropolis. Peter Ormrod and Michael Murphy produced the short series with regular link-ups with Caryl Parry Jones in HTV, short films on people and activities and a weekly look at things scientific.
This interview was recorded for the first episode of 'Off The Wall' broadcast on 6 July 1981.