Ray, Dustin, Socky and Snotser are in Denmark to visit Legoland.
Ray D'Arcy presented children's afternoon programmes 'Den TV' and 'The Den' from 1990 to 1998. Broadcasting from the RTÉ studios with the puppet characters Dustin, Soky, Zuppy and Snotser, the programme consisted mainly of links between programmes but also included competitions, talent spots, a birthday slot and a variety of guests.
There were also special editions of the programme at Christmas and occasionally the team would venture further afield, such as this trip to Legoland in Billund, Denmark, which was to promote a viewer competition.
Ray D'arcy offers some facts about Denmark, but as usual, Dustin is not shy to show his indifference.
You can bore me all day Ray.
The Danish women seem strangely immune to Dustin's charms, as no one is taking him up on his offers of a date. Perhaps it is the language barrier?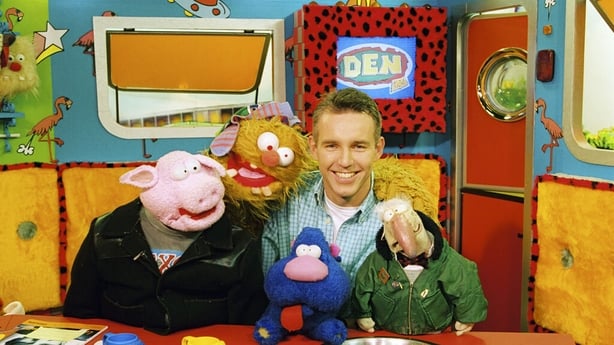 Ray D'Arcy with Snotser, Soky, Zuppy and Dustin (1996)
'The Den In Legoland' was broadcast on 27 May 1994.