Dismay for Dustin the Turkey who fails to make the general election ballot paper.
There was disappointment for one general election candidate who was convinced he was already on his way to Leinster House.
Colm Connolly reports from the RTÉ general election studio on the news that Dustin the Turkey didn't make it on to the ballot paper.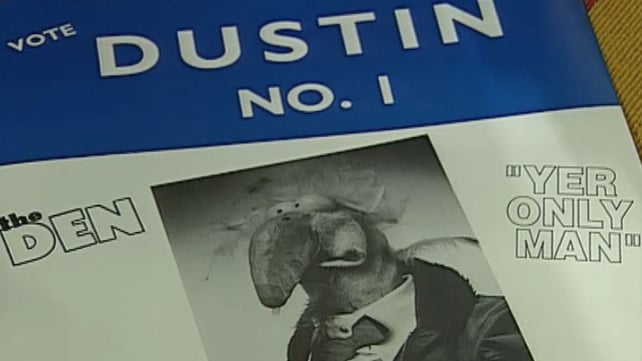 Dustin, representing The Poultry Party, has been gathering up support from all over the country with his radical policies. Many of his supporters are young people who went to the effort of designing their own posters outlining Dustin's campaign policies.
He's your only man.
Put a fence around Donegal.
Bring the Dart to Dingle.
Speaking about his absence from the ballot paper, Dustin said
It's a total injustice. It's a setup by all the other parties against me. They took my name off the ballot paper because they knew I was the only honest politician. They knew I was the man that was going to bring the Dart to Dingle, buy a dog licence get a TV licence free. All my policies that they will be using in the future. I guarantee you.
Dustin's election manager and publicity officer, Zig and Zag, also voiced their disappointment with the news.

Zig and Zag (1992)
Dustin might be out of the race for Dáil Éireann this time, but he is determined to make a comeback.
An RTÉ News report broadcast on 25 November 1992. The reporter is Colm Connolly.