Too many people in Ireland do not exercise enough, are overweight, need to eat more fruit and vegetables and smoke and drink less.
The most recent survey from the Irish Heart Foundation presents a disturbing picture of the level of health and fitness in Ireland. A sedentary lifestyle, poor eating habits and consuming more alcohol and cigarettes than are good for us means that heart health is not on the top of Ireland's agenda.
Forty per cent of Irish people take little or no regular exercise, twenty per cent of the population watch television for over four hours every day, and half of those aged between 30 and 69 years are overweight.
When it comes to alcohol, men drink more than three times the amount consumed by women, and almost one in five men drink more than the recommended weekly limit.
Minister for Health Brendan Howlin agrees that the survey contains some worrying findings. He says that his Department's Health Promotion Unit is committed to improving healthier lifestyles,
We obviously smoke too much still although there has been improvements on that front. Our diet needs to be improved, and we need to take more exercise.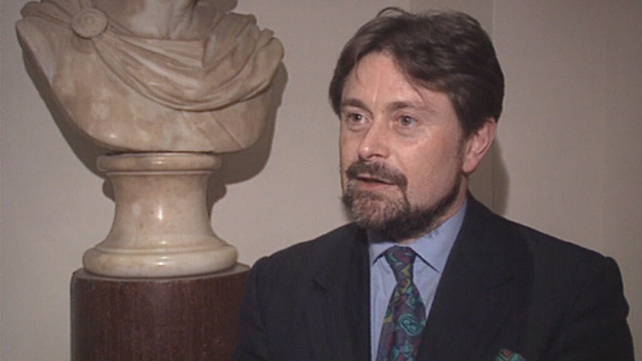 Minister for Health Brendan Howlin (1994)
Believe it or not, these results are better than those found in previous surveys,
People are trying to improve their lifestyle.
Forty per cent of those surveyed had tried to change their diet during the previous year, with more and more people consuming low fat milk and dairy spreads and cutting back on the cigarettes.
An RTÉ News report broadcast on 12 April 1994. The reporter is Una O'Hagan.