Ash Wednesday is an anti smoking day encouraging people to put out the cigarettes and quit the habit.
Dubliners tell RTÉ News about their efforts to give up cigarettes on National Smoke Out Day.
Ash Wednesday is the start of Lent in the Christian liturgical calendar, taking place six weeks before Easter. During this time, many people give up things that they enjoy, such as sweets, alcohol, or smoking, as abstinence is one of the practices encouraged by the Catholic Church during this time.
RTÉ reporter Joe O'Brien talks to smokers in Dublin city centre who are trying to kick the habit this Ash Wednesday. One lady had made a good start this morning, but unfortunately fell by the wayside,
I tried, but I couldn't give them up, you know...I lasted for about two hours.
Many of this young man's friends have kicked the habit, and encourage him to do likewise, but he is struggling,
I would like to give up cigarettes, but I just don't know how to give them up, you know.
And one gentleman, whose wife has given up getting him to give up, is an unrepentant smoker. For him, quitting means to
Give up half of what I enjoy.
The substitution method, along with willpower, is being employed by this man who is determined to give up cigarettes. In this case, plastic straws are the replacement,
I've chewed through four already, but sure we'll see can we keep it up anyway.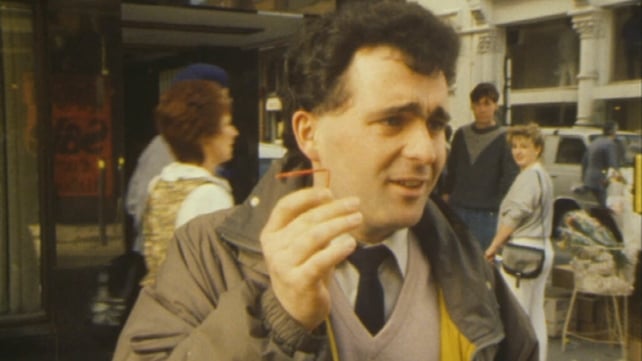 Using plastic straws as a smoking cessation aid (1984)
Anti-smoking campaigns of the past have been successful, and the Irish Cancer Society say these special anti-smoking days give smokers a chance to kick the habit for good. Cigarette sales have fallen by ten per cent in the last two years, and in the last decade there has been a seven per cent drop in the number of people who smoke.
Thirty five per cent of the population now smoke.
Cigarette manufacturers are feeling the cumulative effects of the campaigns, with two Irish companies looking at redundancy plans for 200 workers.
Anti smoking measures notwithstanding, the Irish Cancer Society remains very concerned about the number of women smoking, as the number of lung cancer deaths in women is on the rise. Today's message is making a lot of women think about quitting, says Irish Cancer Society spokeswoman Avril Gillet,
Today the phone calls had been predominantly from women and really they were genuinely interested in giving up cigarettes.
An RTÉ News report broadcast on 7 March 1984. The reporter is Joe O'Brien.