Smoke free areas on public transport and planes but not cinemas and theatres. Ireland rates poorly in a survey for non-smoking areas in public places.
On National No Smoking Day 1977 and the first day of Lent, reporter George Devlin talks to members of the public about giving up smoking. Most were finding a smoke-free existence a challenge,
Finding it a little bit of a strain, but already it's only half eleven, and I've had about six cups of tea to make up for it.
In 1976 twenty European countries were assessed on the provision they made for non-smoking areas in public places such as hotels, cinemas, shops, hospitals and bars. Ireland came two places from the bottom in 18th place. One year on, has there been any improvement?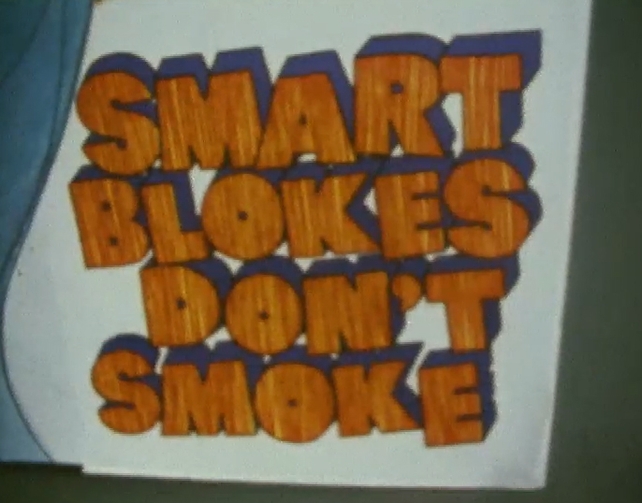 Smart Blokes Don't Smoke Poster Campaign
The Irish Association of Non-Smokers was advocating for non-smoking areas on buses and trains, and had been in regular contact with Córas Iompair Éireann (CIÉ) and Aer Lingus, with positive results. By 1977, CIÉ had decided to enforce its non-smoking regulations, banning smoking in sections of buses, and Aer Lingus also had non-smoking rows in its aircraft.
The World Health Organisation had also asked countries to look at the plight of non-smokers so they could exercise their right to avoid a smoke-polluted atmosphere. However government officials in Ireland appear to be taking the message on board slowly,
The Health Education Bureau, which is responsible for the Irish government's anti-smoking campaign, says it doesn't think direct prohibition of smoking in public places is a good idea, and hopes this will come about with voluntary co-operation.
While public transport patrons had an option to choose non-smoking seats, it was not the same for theatre and cinema goers. The Theatre and Cinema Owners Association of Ireland did not welcome a proposal of non-smoking sections in their establishments with open arms,
We must try and cater for the greatest number of people, in order to keep our cinema prices at their present level, without undue increases. If we were to reserve large sections that might well remain unoccupied, obviously those who came would have to pay more to cover the cost of the empty seats.
In 1977 the number of smokers in Ireland was at one million and showed no sign of decreasing. An estimated 7000 million cigarettes were expected to be smoked. The only person who was guaranteed to benefit from all this was the taxman, who could look forward to £100 million flowing into the State's coffers.
An RTÉ News report broadcast on 23 February 1977. The reporter is George Devlin.