Preparations are underway for the RTÉ telethon to raise money for the People in Need Trust.
RTÉ Studio 1 in the television building in Donnybrook is normally home to The Late Late Show but has been transformed for tonight's seven and a half hour broadcast of the People In Need Telethon.
Test links to the regions and the United Kingdom are being carried out in the master control room.
£6 million pounds of equipment ready to meet the Telethon challenge.
Presenter for the evening is Gay Byrne who says he is unprepared for the evening but is convinced it will be an evening of good craic and chaos.
If everything works, it will go like a dream and if not, the whole night will end in tears.
This is the biggest single operation RTÉ has ever mounted on its own and has committed three hundred people to work on the broadcast. Executive Producer for the programme is John Williams believes it will be a great night of razzmatazz and entertainment.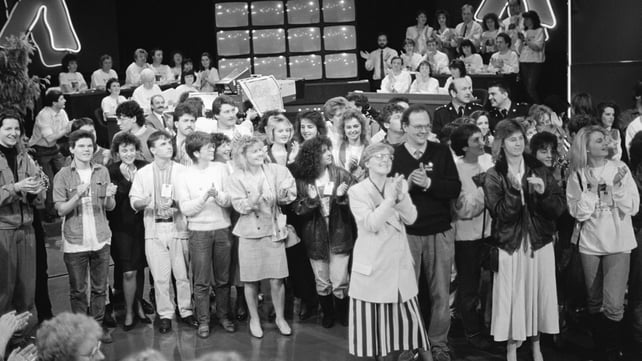 Telethon Production Crew (1989)
Throughout the evening, there will be interviews with celebrities in studios, live broadcasts of musical performances in Dublin, Cork and London, with entertainment from Galway, Athlone, Sligo and Waterford.
Many banks and the ESB are keeping their offices open late to collect money for the fundraiser and people can call into phone centres around the country to make donations.
The target, a million pounds. The hope that that'll be passed.
Director General of RTÉ Vincent Finn is optimistic that the target will be achieved.
An RTÉ News report broadcast on 21 April 1989. The reporter is Alasdair Jackson.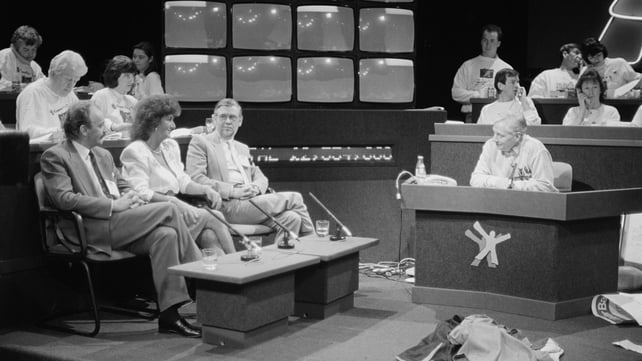 Gay Byrne Interviews Panel During Telethon (1989)