Meetings take place in the West of Ireland over fears that small rural Garda Stations may be shut down.
The people of small towns and villages argue that a telephone is,
No substitute for a resident Garda or a man on the beat.
Rural residents have come together to establish action committees to fight to save their local Garda stations in towns like Ballinlough. Ballymoe, Ballintuber, Glenamaddy and Williamstown.
Local groups are preparing to fight any move to downgrade their station.
In Williamstown there has been no official notice that the local Garda station is to close but people are wary that cutbacks are coming.
Oliver Lennon secretary of the Action Committee on the threat of the loss of Garda stations and the need for Garda on the beat.
We fear for the service we have.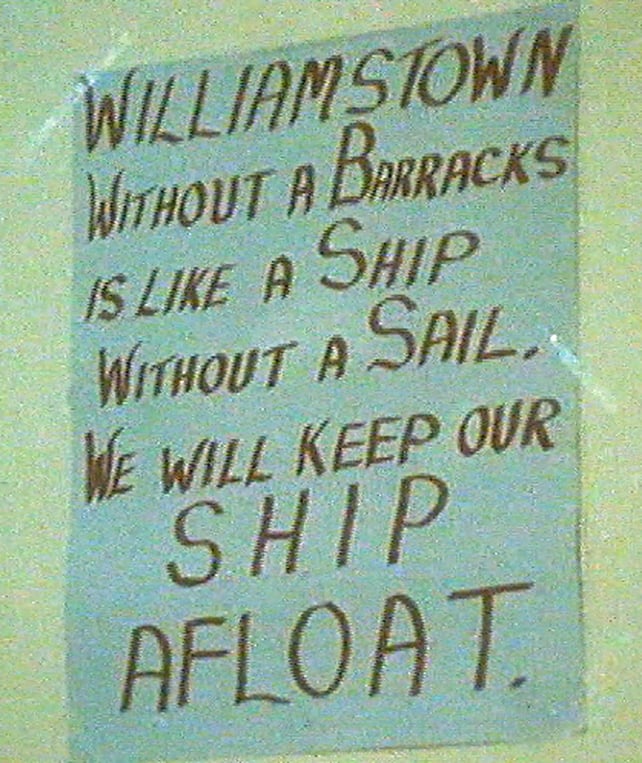 Poster in Williamstown
At the Williamstown meeting, all the local politicians were summonsed to attend. These included Fine Gael Senator John O'Connor, TD Liam Naughton, Fianna Fáil Senator Tom Hussey, TD Sean Doherty, and TD Terry Leyden. While many of the Fine Gael members present claimed that no station closures would be made, the overall feeling was that something was afoot.
The Action Committee plans to continue to lobby TDs and collect thousands of signatures in order to save their station.
President of the Garda Representative Association Frank Mullen claims that the local's fears are unfounded and does not understand the reason for the public outcry.
An RTÉ News report broadcast on 23 February 1984. The reporter is Jim Fahy.