Forty seven years after it was made, a monument of Christ the King finally has a home in Dun Laoghaire.
The triple cross sculpture was designed by Andrew O'Connor in the 1920s as a memorial to those who died in World War I.
This is the story of the statue that arrived forty seven years late.
A meeting of Dun Laoghaire Town Hall in 1931 decided to put up a memorial to Christ the King and a committee purchased the monument which depicts Christ crucified, Christ the consoler and Christ resurrected. However, there were objections from the clergy and for many years the statue lay in the People's Park in Dun Laoghaire.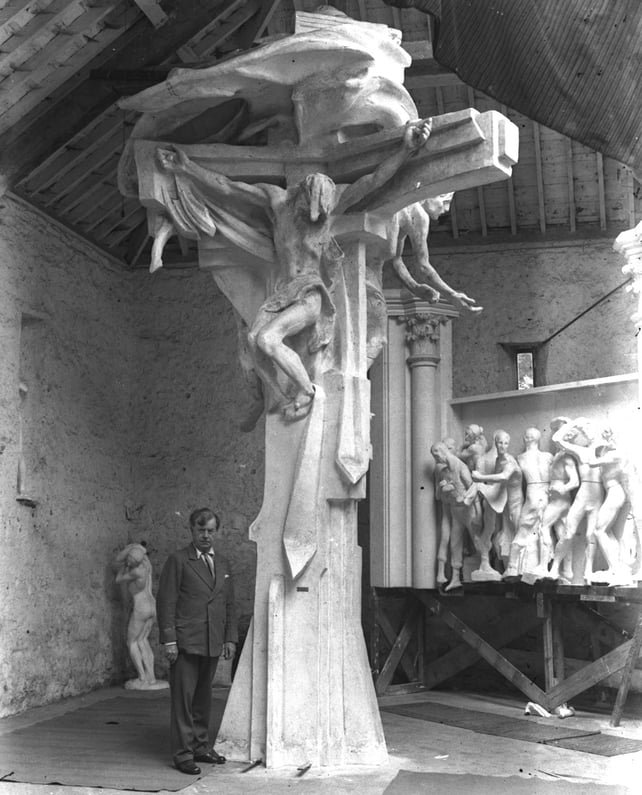 American sculptor Andrew O'Connor poses with his work 'Christ the King', circa 1930
When a local man threatened to steal the sculpture in protest over the ecclesiastical objections, the monument was moved to committee member Edward Kenny's back garden. From there the monument was moved to a repair yard in preparation for a home on Haigh Terrace overlooking Dun Laoghaire harbour.
An RTÉ News report broadcast on 16 December 1978. The reporter is George Devlin.