A new monument for O'Connell Street will be part of the Dublin Millennium legacy.
Opinions are divided over Dublin Corporation plans for the Anna Livia fountain in the city centre. One Dublin politician said that the proposed monument will look like,
The tomb of the unknown gurrier.
Others say it will look like an oil tanker in the Persian Gulf.
Despite the controversial views on the fountain, the Anna Livia is planned to be in place on O'Connell Street by June 1988 as part of the Dublin Millennium celebrations. The 90 foot long and 16-foot wide sculpture, designed by Eamonn O'Doherty and Seán Mulcahy, consists of a granite base with the figure cast in bronze and will have up to forty mini-fountains.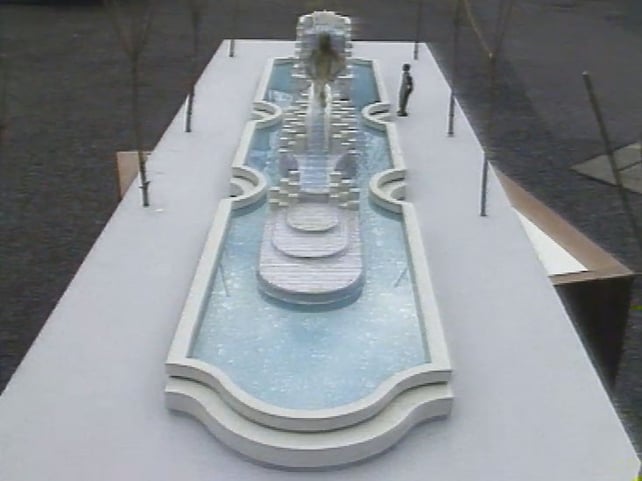 Anna Livia Sculpture Model (1988)
Sculptor Eamonn O'Doherty is confident that Dubliners will be able to identify with the fountain and rejects any claims that it will dominate O'Connell Street.
An RTÉ News report broadcast on 7 March 1988. The reporter is Charlie Bird.