Dublin Bus encourages Christmas shoppers to jump on a Nipper.
A new fleet of 29-seater minibuses aims to take some of the hardship out of Christmas shopping.
The new Dublin Bus service named Nipper will bridge the main shopping streets north and south of the city. Departing from dedicated bus stops at O'Connell Street and Saint Stephen's Green West the Nippers will run from 10.30am to 6pm Monday to Saturday, until 8am on late night shopping days, and from 1pm until 6pm on Sundays.
According to RTÉ News reporter Maggie O'Kane, the primary advantage of this new bus service is
Instead of having to drag your baggage and your children up to Stephen's Green and back again, you just take the Nipper.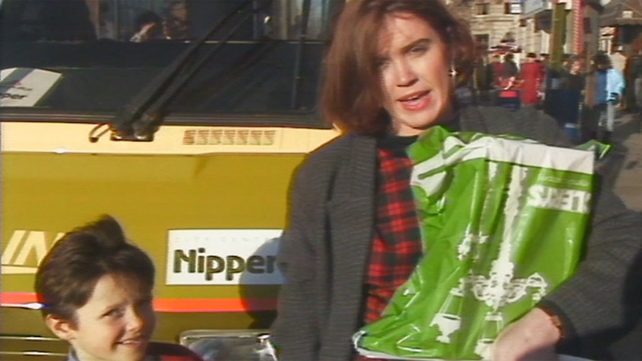 Maggie O'Kane and child at Nipper bus stop, O'Connell Street, Dublin (1988)
Dublin shoppers are enthusiastic about the new service,
Very handy for anyone with a buggy or anything.
One lady thinks Dublin Bus should extend the service,
I'd like it on longer. I'd like it on for the sales.
The fare is 50 pence, but a family of six can also travel for that price. The Christmas shopping service was free four years ago when first introduced. Why the charge now? Managing director of Dublin Bus John Hynes, explains that it is now classed as a new Dublin Bus route,
The last time we ran the service, we did it on behalf of the city centre shops, and they paid the bill for the buses we provided, so it was free to the customer.
An RTÉ News report broadcast on 6 December 1988. The reporter is Maggie O'Kane.