Passengers can access bus timetables on mobile phones but the text service is not yet capable of giving the time of arrival of the next bus.
Commuters can now text the word 'Bus' to a five digit number 53503 and receive a message informing them of the times of the next three buses.
Anyone who's ever waited for a bus will welcome the new service which is aimed at the 85 per cent of the population who own a mobile phone.
While this is a step in the right direction, the service falls short of telling commuters the estimated time of arrival as it is based on scheduled arrival times which do not take into account traffic delays.
Dublin Bus operates a tracking service on two of its eleven hundred routes and extending this to other routes could cost up to €10 million.
Commuters have also been critical of the service which comes at a cost of thirty cents per text.
It's very pricey for what it is and you could have a timetable instead. It's a lot cheaper.
Would it not be cheaper for them to buy more buses and then have a few more buses on instead of paying a couple of million to put in a text servicing service that no one really is going to use.
If you want the timetable, you could look it up yourself. I don't think you need constant text messages about it.
The initiative was the brainchild of students from Dublin City University (DCU).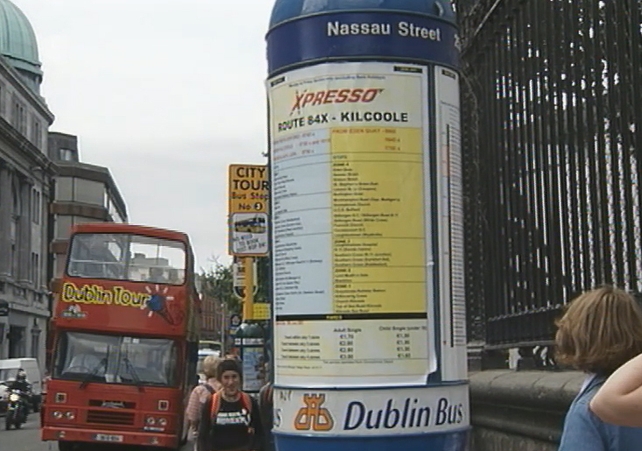 Grainne Mackin of Dublin Bus outlines what the service is all about and who it is aimed at.
Dublin Bus is hopeful that funding can be made available to provide a tracking service on all its routes.
An RTÉ News report broadcast on 23 July 2003. The reporter is Eileen Whelan.