Hopes that the introduction of bus lanes in Dublin will persuade commuters to leave their cars at home and use public transport.
A new dedicated Quality Bus Corridor between Coolock and Amiens Street will reduce journey times to and from the city centre. These new bus lanes may only be used by buses, taxis and cyclists, from 7am to 7pm.
Christy O'Sullivan from the Dublin Corporation Office of Traffic is pleased with the results to date,
Our initial surveys taken in the last couple of weeks show that the buses are in fact travelling at about thirty per cent faster than the car.
The numbers of passengers on the route has increased, but bus drivers believe that the Quality Bus Corridor (QBC) will only succeed as long as they are limited to Dublin Bus vehicles and taxis,
Taxis aren't too bad, but if you start letting hackneys in, and private coaches and all that sort of thing, it will slow it down.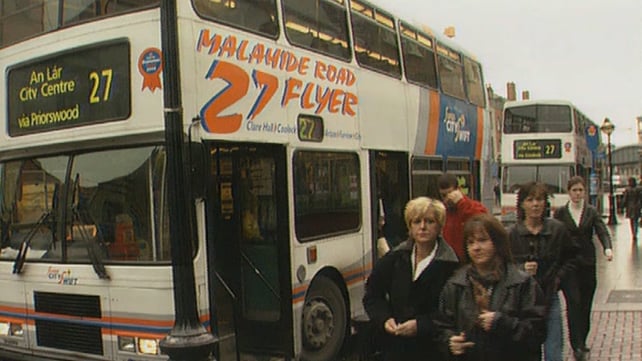 Passengers alighting from the number 27 bus in Talbot Street (1998)
So people are beginning to leave the car at home and use the bus instead. But if the numbers continue to increase, will there be enough buses to service the route? Yes, says Derry O'Leary of Dublin Bus, as funding has been approved for 150 new buses,
We strongly welcome that, and that in effect will afford us the opportunity to dramatically increase the capacity on the various QBCs.
Coolock is just the second of ten routes planned for the city. Finglas, Blanchardstown and Stillorgan should be opened by next spring, followed by five more by the end of 1999.
An RTÉ News report broadcast on 4 December 1998. The reporter is Carole Coleman.