The nation's finest felines go on show to find the top cats in Ireland.
The Silver Jubilee Cat Show held at the RDS showgrounds attracted nearly 180 entries.
There were long-haired cats, short-haired cats, young cats and mature cats, female cats and male cats, neutered cats and entire cats.
While the cats were cool, their owners were "nervous as kittens".
The cat lovers came from all over the country including Nila McDonald from Hollywood County Down who writes poems about cats.
Upon arrival at the Cat Show, the entrants undergo a veterinary inspection for any sign of fleas, dirty ears, worms, ear disease, cat flu, and any other feline ailments that might be contagious or infectious. The show is open to all kinds of cats as long as they are clean and healthy.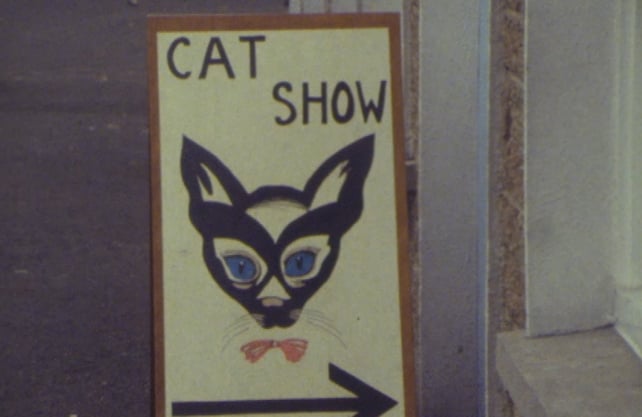 Cat Show at the RDS (1978)
Mr KT Hall, Chairman of the Show Committee, recalls how one cat escaped from the Cat Show at the Mansion House some years earlier. The rescue of the cat involved Mr Hall shimmying down a drainpipe. The cat went on to win second prize in one of the categories at the show.
The cats on show include exotic breeds like Burmese in lilac, chocolate and cream, Havanas, Chincillas, Seal Points, Blue Points, Red Points, Tabby Points, Manx, and Siamese, as well as non-pedigree cats.
Two well-known experts from Britain acted as judges in the competition, alongside two Irish judges.
Founder member of the Siamese and All Breeds Cat Club, Mrs MacDougal had the job of judging 'The Champion of Champions' and describes what she is looking for in a winning cat.
When the judging was complete, the public were allowed in at a price of 50p for adults and 20p for children and old age pensioners.
If you're a cat lover, it's the best value in town.
Although there are only a dozen trophies up for grabs, there are loads of rosettes so very few cat owners go home empty-handed.
For breeders, a top prize means not only a trophy it's also an important professional accolade.
This episode of 'PM' was broadcast on 17 October 1978. The reporter is Pat Kenny.