An ecumenical service is held at the newly restored National War Memorial Gardens at Islandbridge in Dublin.
The National War Memorial Gardens, designed by Sir Edwin Lutyens, have been at Islandbridge in Dublin since the 1930s and commemorate the memory of the Irish men and women who died in World War I (WWI).
50,000 people from the north and south of Ireland answered the call to fight in WWI for the defence of small nations. Because of the huge death toll a national collection was made after the war was over to honour the dead.
Éamon de Valera was due to open the Islandbridge Memorial in 1939, but World War II broke out and the ceremony never took place.
Over the following decades, the Gardens were vandalised and fell into a state of disrepair, but in the 1980s they were renovated by the Office of Public Works (OPW) in conjunction with the Memorial trustees.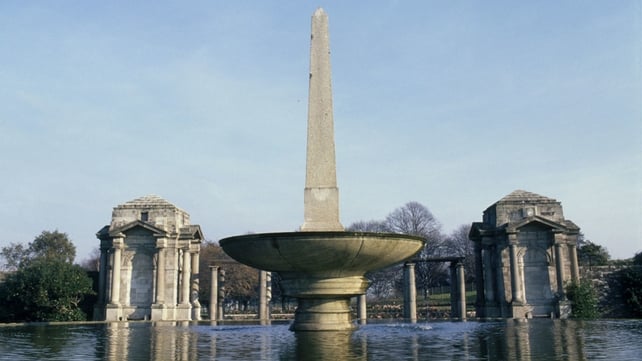 An ecumenical service took place to officially dedicate and reopen the National War Memorial Gardens. The Church of Ireland Archbishop of Dublin Bishop Donald Caird and Bishop Joseph Carroll were among the leading clergymen who performed the ecumenical dedication. The service was attended by some survivors of the WWI trenches as well as the British ambassador to Ireland Nicholas Fenn.
The service was briefly interrupted by anti-extradition protesters, but members of An Garda Siochána swiftly dealt with the incident.
The names of the 50,000 who died in WWI are listed in one of the pavilions and another building houses a cross that once stood on the Somme battlefield.
Some British service men believe the Irishmen who died in WWI were never properly appreciated by their own country. Lieutenant-Colonel Derek Boydell says,
I think the Irish should be proud of people who gave their lives for freedom and against tyranny.
An RTÉ News report broadcast on 10 September 1988. The reporter is Joe O'Brien.