Four survivors along with relatives, friends and members of the present day Defence Forces gathered for the unveiling of a memorial to the men who lost their lives in an accidental explosion at the Glen of Imaal in County Wicklow on 16 September 1941.
The members of the Irish Defence Forces were part of a unit conducting tests with anti-tank mines when one of the mines exploded prematurely killing 16 men and blinding three others.
Minister for the Environment John Boland, whose uncle also survived the explosion, unveiled the memorial commemorating the worst single incident involving loss of life since the foundation of the state.
Survivor Sergeant Richie Lennon describes the fateful accident
I heard the bang and I was carried was carried about 100 yards further...when I got up and went over you didn't know who to render assistance to, it was an awful sight.
An RTÉ News report by Charlie Bird broadcast on 14 September 1986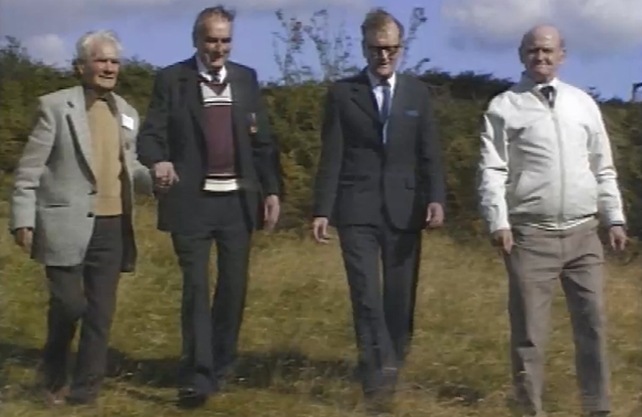 Survivors of the Glenn of Imaal explosion.