Peter O'Brien of the Royal Irish Rifles speaks to Proinsias Mac Aonghusa about joining the army, and the Battles of the Somme and Ypres.
Peter O'Brien quit his job and joined the army in August 1914.
Everyone was joining for to fight for the right of small nations.
He served in Gallipoli first and then served in France until 1919. During his time in France Peter O'Brien was injured on four occasions. He recalls the Battle of the Somme in July 1916 and getting wounded and the conditions in the trenches in Ypres.
We kicked off on the first of July on the big battle 1916. Our battalion was in the first line.
From a contingent of 25 from the Royal Irish Rifles in Ypres, only 3 survived.
This clip is taken from Proinsias Mac Aonghusa's documentary 'It's A Long Way To Tipperary' which was first broadcast on 12 November 1962.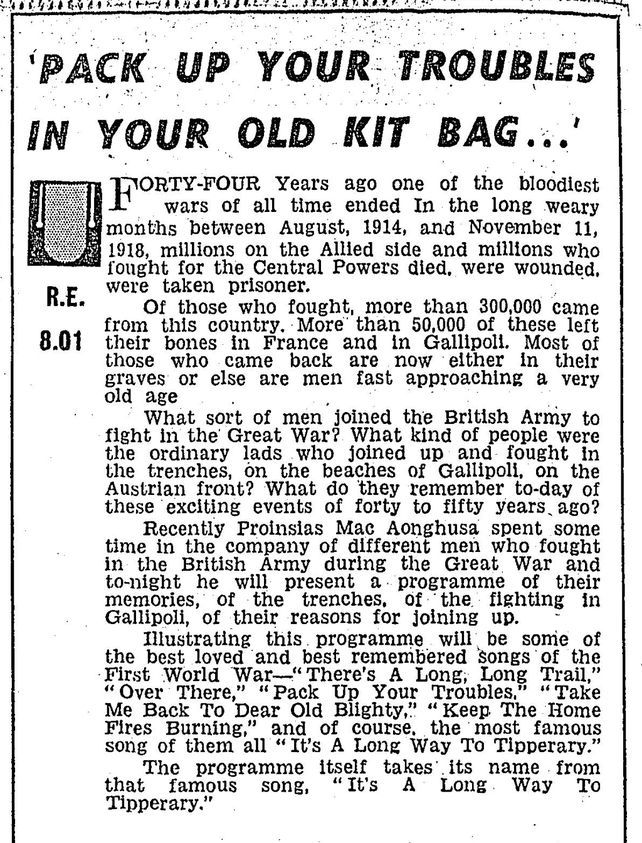 RTÉ Guide, 9 November 1962