Ambitious plans will make Croke Park the home of the GAA a world class sports stadium.
GAA officials met at Croke Park to witness the signing of the contract for the redevelopment of Ireland's most famous sporting landmark.
Today, the GAA President Peter Quinn signed an agreement that will quite literally change the face of Irish sport.
The development will take fifteen years at a cost of £100 million to transform Croke Park into one of the most modern stadiums in Europe.
Shortly after next month's All-Ireland final, demolition will begin on the Cusack Stand. Plans are that a new stand is to be in place around eighteen months later. This is the first phase in the transformation of this sporting mecca.
The redevelopment will eventually bring the stadium's capacity to eighty thousand people.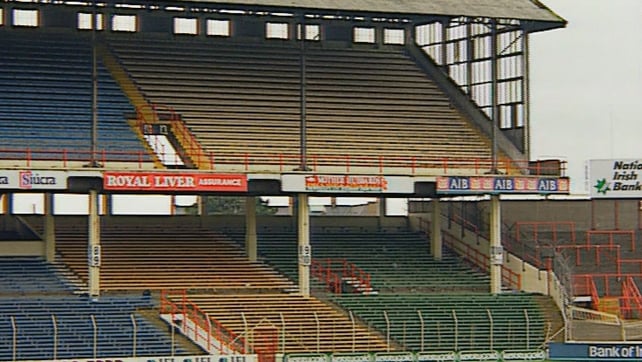 Old Cusack Stand, Croke Park, Dublin (1993)
For GAA President Peter Quinn, the redevelopment brings mixed emotions.
As well as the odd smile, there'll be the odd tear too when they start demolishing it after the All Ireland final.
The project will employ around 750 people over the next fifteen years. Kevin Kelly of developers Sisk and Co believes the final stadium will be well worth the wait describing it as state of the art.
It's probably going to be one of the most modern stadiums, certainly in Europe.
Some local groups, however, have rallied against the project protesting that the disturbances that come with fifteen years of development on their doorsteps. The GAA says that they understand these concerns and will do everything in their power to minimise disruption.
The GAA hopes to fund the project largely through corporate donations and state contributions.
An RTÉ News report broadcast on 25 August 1993. The reporter is Mark Little.