Children from St Agatha's Youth Club Club in Dublin look forward to a trip to Sherkin Island in the wilds of west Cork.
Ballybough, in Irish An Baile Bocht, is home to St Agatha's Youth Club. The local children come here for arts and crafts and all sorts of other activities. Their many awards are testament to their success as entertainers and dancers.
The club is run by Sister Veronica, a Daughter of Charity youth worker. Living in the inner city, these young people get a break from the pollution and the sound of traffic every year, when they spend two weeks on Sherkin Island off the west Cork coast.
Are they looking forward to it? Most definitely. Samantha, who will be going for the first time, tells reporter Shay Healy why,
It'll be a great time...'cause it's a big huge beach out there, and we'll be able to play all the time.
One young member of the youth club enjoys the peace and quiet on the island,
Like out in the streets they do all shoutin' and you can hear them, but down there you can't hear anybody.
Sister Veronica heard about Sherkin nine years ago, and thought that it would be an ideal holiday location for inner city children, even if she did not know herself exactly where the island was. The first trip was such a success that she has been bringing groups of children down every year since then.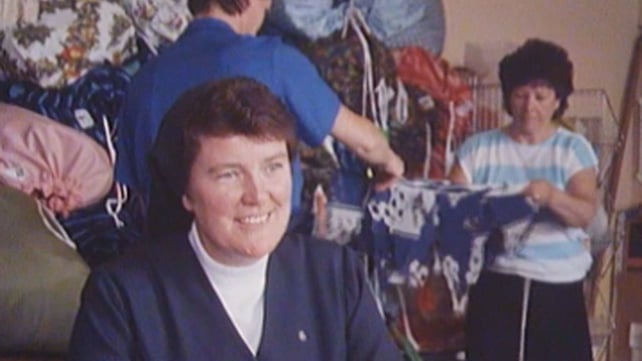 Sister Veronica, youth worker, Ballybough (1988)
While a lot of the children in the club are from in and around North William Street, many of them are from the surrounding parishes. Everyone is welcome, says Sister Veronica,
We never refuse a child admission to the club.
During their holidays, the children are immersed in the Sherkin Island's flora and fauna, which is of benefit to them, on many levels as Sister Veronica explains,
One year now we would learn the names of all the wild flowers, and then we would learn the names of all the seaweed and that, so we kind of in-build the lessons into it.
As well as putting on a show for the locals every year, the children are encouraged to help out the community when and where they can. In this way, visitors and locals learn about each other.
So for two weeks, young Dubliners have the happy prospect of playing on the beaches of Sherkin Island in the fresh air. As Shay Healy puts it,
Fair exchange really, because every Sunday their patch up around Croke Park is invaded by culchies. A bit of cross-pollination, no harm at all.
This episode of 'The Dublin Village: Ballybough' was broadcast on 5 August 1988. The reporter is Shay Healy.