The fallout of emigration in Leitrim where most young people depart when their school days are over.
In 1871 there were 96,000 people living in Leitrim. In 1966 that had fallen to 30,500, and the population continues to drop. Marriage rates are below the national average, not helped by the reality of emigration,
Imíonn na cailíní agus leanann na buachaillí...ba shin é a tharlaíodh go dtí seo.
A local teacher goes through one page of a national school roll book from 1946, where the majority of the children he taught are now working in England and America. He thinks that things are looking up, however,
Is dóigh liom go raibh seans níos fear ag na buachaillí agus na cailíní atá ag imirt ansin, nuair a fhásfaidh siad suas, go mbeidh obair le fáil acu sa dúiche.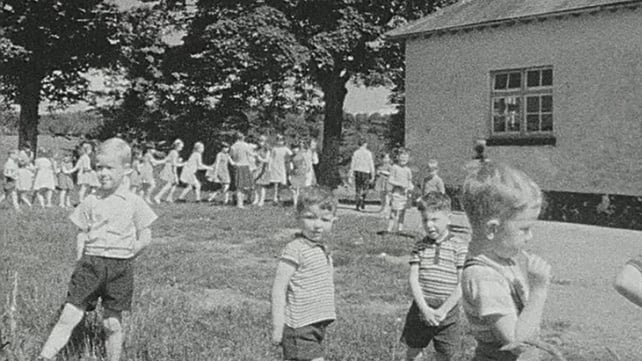 Children playing outside a national school, County Leitrim (1968)
But there are many benefits to living in a remote rural community, as Father Francis Doyle, who is based in Carrick-on-Shannon explains,
We have a healthy way of life, fresh air and fresh food. Also we have, I would venture to suggest, a better chance of being really educated, and free from the various factors that promote and cause juvenile delinquency and social disturbances, personality disturbances, in industrial civilisations.
Rural life and the hardship which is so often part of it are detailed by local writer John McGahern, as well as Patrick Kavanagh, who grew up in an environment similar to this. Does Father Doyle agree with the oft-quoted statement that people in Leitrim are living lives of 'quiet desperation'? Yes and no is the answer,
It would be wrong to say that nobody is unhappy, but it would be equally wrong to say that everybody is unhappy. Most peoples' lives consist of striving, getting on, trying to bear up under the various problems that occur.
This episode of 'Féach' was broadcast on 16 June 1968. The reporter is Diarmuid Ó Muirithe.