Carrick-On-Shannon in Leitrim is to host a World Canoeing Championship event.
Carrick-on-Shannon has been chosen as the venue for a World Canoe Marathon Race in August. Des Cox from Carrick's Chamber of Commerce is delighted that the town will open its doors to the international canoeing community.
Carrick-on-Shannon is home to the second oldest rowing club in Ireland and Ireland's Olympic rowing hopeful Frances Cryan,
We have a great tradition here on the Shannon, and we're thrilled that this event is being held in Carrick on Shannon.
The championship event will take place on 25th August, but it is expected that local guesthouses and hotels will be fully booked for the entire week, with teams arriving from seventeen countries.
Already members of the Irish team are using every opportunity to get down to Carrick and train.
The event will be staged along a 26 mile course, starting at Lough Key, County Roscommon, through Carrick on Shannon to Jamestown, and back along the canal to Carrick again.
Manager of the Irish Canoeing team Mark Clinton is busy fundraising in between training sessions. The Irish Canoe Union has already received a grant from the Irish government to assist with organising the event, but further financial aid is required,
I'm at present negotiating with a number of Irish companies and Irish based multinationals, with a view of investing in this race.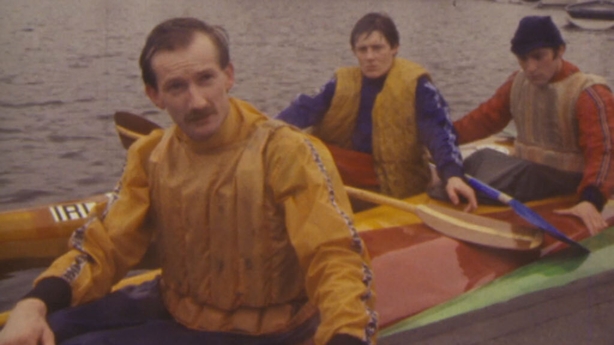 Mark Clinton, Carrick-on-Shannon (1984)
An RTÉ News report broadcast on 12 April in 1984. The reporter is Tommie Gorman.