The new ferry service from Rosslare to Le Havre commences in time for the busy holiday season.
The Saint Patrick's maiden voyage to the French port of Le Havre commences with some delays, but is otherwise uneventful. Holidaymakers are the main passengers, with a group of four people in a car costing £140 for the return journey. The ship is also carrying lorries and freight cargo containers bound for France, Germany, Italy and Spain.
Despite facing into rough seas, the Saint Patrick is equipped and prepared for anything the elements will throw at her,
On her bridge, it's as chock-a-block with consoles as a mini mission control station for the moon. It's fully automated, every instrument duplicated, automatic steering, radar sets, automatic navigator, direction finders, echo sounders...
At the helm is Captain Ivan Shiel. Having commanded all of the vessels in the Irish Shipping company's fleet, he is confident that the ship's builders in Bremerhaven have done a good job, that the Saint Patrick is stable and seaworthy, and that there won't be any hitches, technical or otherwise,
...everything is tested thoroughly, she's put through her paces, and we're committed to a service, it's just got to work.
It has been a year since Ireland had a regular ferry service to Europe, since the French-owned Normandy Ferries went out of business in 1971. On board is Eamon Ceannt, Director General of Board Fáilte. He acknowledges that 1972 was a bad year for tourism in Ireland, but firmly believes that a European market is out there, which will be targeted by Board Fáilte,
There's no use fooling ourselves, there are very many people on the Continent who won't come to Ireland, but out of a population of over 200 million people, we can identify a target market of probably about 5-6 million people.
The following morning, with the bad weather behind them, passengers are able to eat their meals in comfort once more, and sit on the upper decks enjoying the sun. Mass is celebrated in one of the ship's lounges. As the Saint Patrick approaches Le Havre, the pilot comes aboard, and will continue to do so for her next 24 trips into the French port. As predicted by the captain, the maiden voyage has gone without a hitch,
The vessel steams confidently towards her berth, spanking new, clean as a whistle, paintwork shining. Past bulk carriers, tankers, tramps, tugs, all the traffic of a big port...Half an hour will see the last of the cars, trailers and trucks on the quay heading for the main highways of Europe.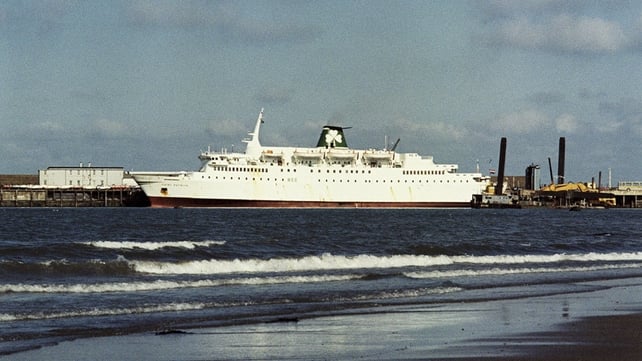 'Saint Patrick' ferry (1979)
This episode of 'Tangents' was broadcast on 8 June 1973. The reporter is Cathal O'Shannon.