The Gay Byrne Show has dealt with many contentious issues during its 20 years on air. Its host believes part of what he is paid for is to be detested some of the time.
Gay Byrne and his production team gather to celebrate twenty years on air for RTÉ Radio 1's 'The Gay Byrne Show' in Studio 7 in the RTÉ Radio Centre.
Twenty years of sitting in a soundproof box. Radio is an intimate medium which Gay Byrne prefers to television because he's immediately accessible and can talk to people one to one, particularly the housewife.
Gay Byrne has been getting up at 6 am for the last twenty years and Friday is always a long day with Gay hosting The Late Late Show on television that evening. Despite his success and popularity on both radio and television, Gay does have his critics and he is acutely aware of this.
Part of what you're paid for is to be thoroughly detested by a good percentage of the people in the country.
The Gay Byrne Show is put together by a team of ten people, some of whom now have their own shows.
As the studio is thronged by photographers marking the occasion, the show must go on.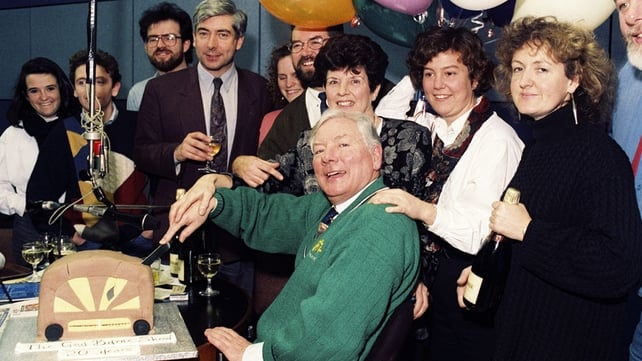 Gay Byrne with the production crew (1993)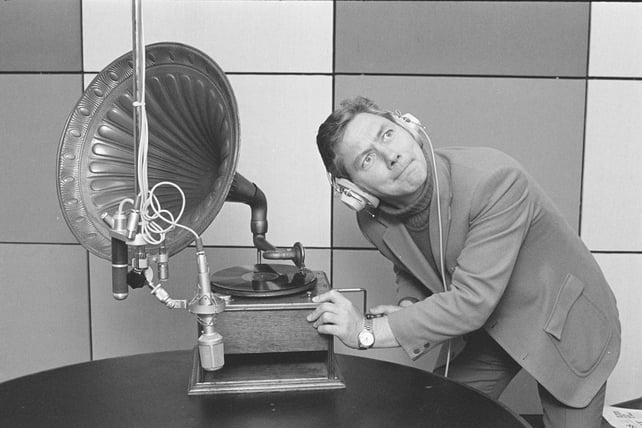 Gay Byrne Publicity Shot (1973)
An RTÉ News report broadcast on 5 February 1993. The reporter is Paul Reynolds.