Mike Murphy's nerves are stretched to the limits as his 'aunt' takes him for a drive.
In a comedy sketch filmed for 'The Likes of Mike', presenter Mike Murphy accompanies his 'aunt' (comedian and impressionist David Beggs).
In an exhibition of driving, Mike's 'aunt' is a danger to herself, her passenger, and other road users. Blithely ignoring stop signs, not knowing her right from her left, and driving the wrong way up a one-way street are just some of the dangerous driving habits Mike Murphy endures as a front seat passenger.
This clip is mute.
This sketch is from 'The Likes of Mike' broadcast on 7 December 1972. The presenter is Mike Murphy.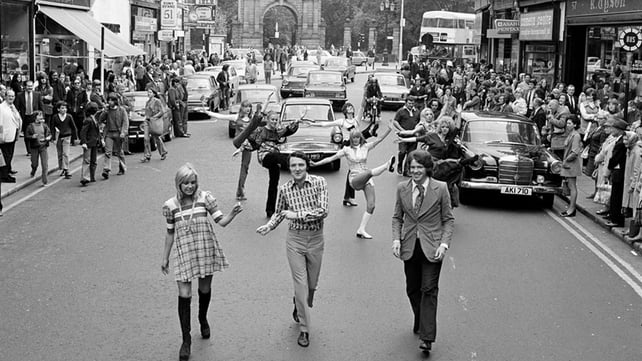 Mike Murphy, Alma Carroll and David Beggs with the June Glazier Dancers on Grafton Street, Dublin (1972)
'The Likes of Mike', presented by Mike Murphy, ran on RTÉ Television between 1972 and 1977. The programme featured regular musical guests and comedy sketches.