A German with a passion for the conservation of birds of prey sets up a falconry in Kildare.
Ernst CF Jocher, author of 'Falcons Fly in Ireland' (1967), outlines the history of falconry in this episode of 'Tangents'.
The history of falconry goes back over four thousand years. In Roberstown, County Kildare, Jocher has established a breeding station for Falcons with the aim of conserving birds of prey. This will also help to keep control of the growing population of vermin in Ireland.
Jocher has a close relationship with these birds as is demonstrated as he trains them with his lure. He orders the birds to display their wingspan for the cameras. Jocher introduces some of the birds including Black vultures from northern Africa, an Irish Red Kite, Eagle Owls, Golden Eagle, and a Laggar Falcon from India.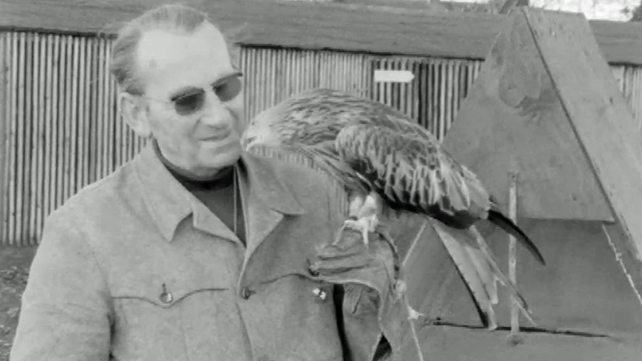 Ernst CF Jocher (1972)
This episode of 'Tangents' was broadcast on 12 December 1972. The narrator is Ernst CF Jocher.
A miscellany of events, entertainment, opinions and personalities, 'Tangents' was first aired on Monday 25 September 1972 and ran until 1974. Tangents was presented by Cathal O'Shannon and Doireann Ní Bhriain on Monday, Wednesday, Thursday, and Friday and by John O'Donoghue each Tuesday.