The cormorant is a nuisance and a threat to the work of the fisherman but one man has reared some young cormorants with the hope of using them as decoys.
Cormorants are wild birds famed for their fishing techniques and loathed by fishermen whose fish stocks are under threat by them.
Fishermen will clap you on the back, officials will smile and offer you five shillings for every cormorant you shoot because these are the billy divers who eat all the young fish.
Bill O'Herlihy meets one man who has managed to tame five wild cormorants. Paul Watson came across the young birds along a cliff and brought them home with the intention of taming them. Describing them as very intelligent birds who have developed a homing instinct much like pigeons, Paul Watson is now using the birds as decoys and while he and the cormorants get along fine, he has a word of warning for others.
They are friendly enough to me personally, cos they know me, you see. Actually I wouldn't advise anybody to put their hand down because they may give them a peck.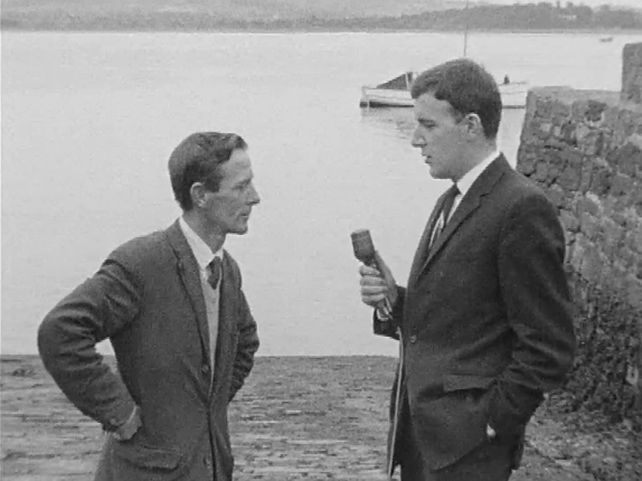 Bill O'Herlihy and Paul Watson (1967)
Local fishermen are amazed by Paul Watson's birds and say they have never seen anything like this.
A 'Newsbeat' report by Bill O'Herlihy broadcast on 27 January 1967.
'Newsbeat' was a half hour feature programme which ran on television from Monday to Friday from September 1964 to June 1971. Reporting on stories from around the country, 'Newsbeat' covered affairs of the day with contributions from print journalists and RTÉ News staff.