It is never too late to learn to dance, according to Shay Healy, who visits Dublin's newest dance studio on Digges Lane.
Dance teacher Veronique Belio outlines the qualities that make a good dancer including natural ability, a good physique, and musicality.
You can teach anybody how to dance.
While shee believes that you can teach anybody how to dance, very few go on to become professional dancers.
Director of the Performing Arts Upper School Iain Montague, says that following the three year course, it is hoped that graduates will be able to become professional dancers and he is optimistic about future opportunities for dancers in Ireland.
Students Jennifer Larkin and Michael Dolan talk about their dance careers to date and their hopes for the future.
The Director of Digges Lane Mark Archer, describes the facilities available to students at the venue, which include a café, sunbeds, saunas and audition spaces.
The dance studios are located on the site of the former 'Kennedy's Bakery' before lying vacant for many years.
When we came in it was just one huge, big, empty warehouse, just full of junk.
Veronique Belio puts Shay Healy's jumping skills to the test to see if he would make a good dancer.
This episode of 'Evening Extra' was broadcast on 23 October 1987. The reporter is Shay Healy.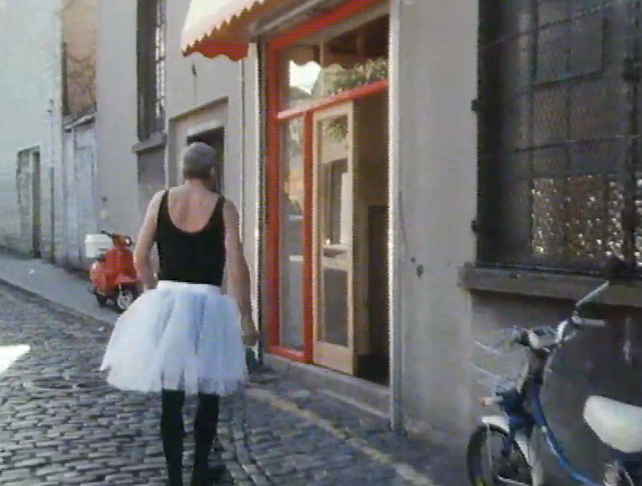 Shay Healy in a tutu at Digges Lane (1987)
'Evening Extra' was a nightly magazine programme which ran from Monday to Friday at 7 pm dealing with current issues and people in the news. The first episode was aired on Monday 13 October 1986 and it ran for 278 shows over 2 years until the final show on 29 April 1988. The programme had numerous presenters and reporters including Siobhan Cleary, Richard Crowley, Bibi Baskin, Aonghus McAnally and Shay Healy.