Pat O'Callaghan recalls winning back to back gold medals at the Olympic Games in Amsterdam and Los Angeles and hopes to see athletes control the administration of their sport.
On 1 August 1932 Pat O'Callaghan (1905-1991) retained his hammer title in the Olympic Games in Los Angeles and became the first Irish person to win two gold medals.
Pat O'Callaghan won his first Olympic gold in the 1928 Olympics in Amsterdam at the age of 24. He was the first Irish athlete from an independent Ireland to win an Olympic medal.
Pat O'Callaghan speaks to Jimmy Magee about his Olympic victories in an interview recorded on 7 May 1966. He got into hammer throwing in 1925 just three years before winning his first Olympic gold medal.
Having seen some hammer throwers in action in Dublin... I thought this event was a fascinating one and I thought it combined necessary agility and a good deal of it with strength. I decided I'd take it up.
For Pat O'Callaghan retaining his Olympic gold medal was his ultimate achievement. The biggest disappointment of his career was not being able to defend his title in the 1936 Olympic Games in Berlin because of wrangling between athletic associations in Ireland. His wish for the future of sport is that the athletes would have more control and he is critical of what he calls "the sport's politicians".
This interview was recorded on 7 May 1966.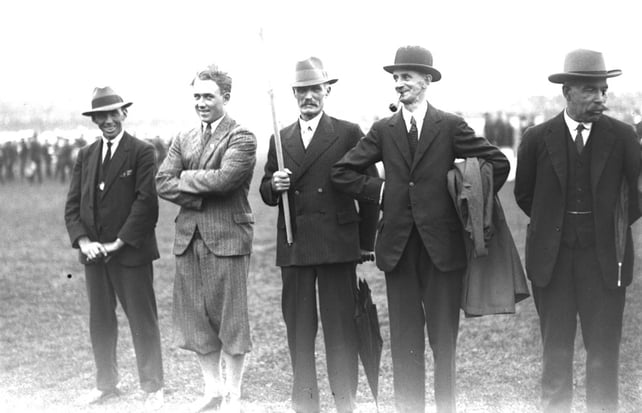 This photograph shows a scene from the opening of the Tailteann Games in Croke Park, Dublin on 2 August 1924. Pictured left to right are TJ Leahy, Pat O'Callaghan, TJ Kiely, Peter O'Connor and JJ Keane. The photograph is from the Cashman Collection.