Broadcaster Ciarán Mac Mathúna pays a return visit to Newport in Tipperary where he spent time as a schoolboy.
The radio and television broadcaster Ciarán Mac Mathúna visits Newport in County Tipperary about 10 miles east of his Limerick hometown. His father grew up close to Newport and Ciarán spent summer holidays with his cousins who lived in the village itself.
Newport was a place full of traditional music, country dancing and old songs. Ballads in the old style were written even in my time.
In Creagh's bar old friends are reunited and the Mayor of Newport Jack Coffey sings 'Dear Old Newport Town'. This ballad was written by Michael Bourke who lived on Main Street in Newport and died there in 1954. Ciarán Mac Mathúna knew him well, and recalls how he could write a song at the drop of a hat and composed a hurling ballad an hour or two after a famous match between Ahane and Newport.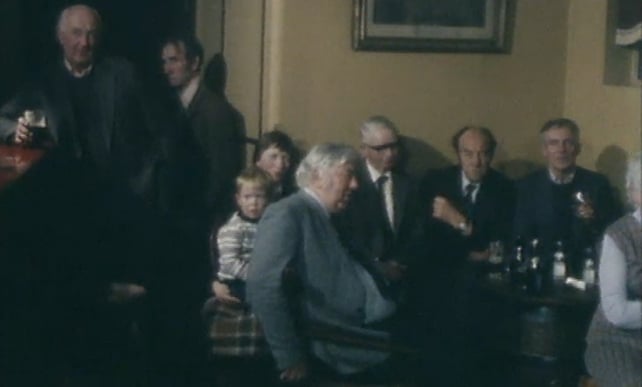 Also present in Creagh's is Michael Bourke's associate Eddie O'Malley and the Mayor's brother, the former Newport hurling great, Jimmy 'Butler' Coffey.
Jimmy Coffey reminisces about the early 1930s which he says were the great years of hurling in Newport although,
It didn't last too long.
Jimmy first played for Tipperary as a member of the minor hurling team in 1928 and he along with Jim Close, Mick Boland and Jack Coffey were lucky enough to win the All-Ireland Minor Championship in 1930.
Jimmy played as a right wing-forward for the Tipperary senior team in the mid-1930s but at that particular time Limerick had a great team.
'My Own Place' features prominent Irish personalities talking about a locality of special interest to them. Ciarán Mac Mathúna presented many programmes of Irish music on RTÉ Televison and Radio from the 1950s onwards. He presented 'Mo Cheol Thú', a selection of poetry, song and music, every Sunday on RTÉ Radio 1 from 1970 to November 2005.
'My Own Place : Ciarán Mac Mathúna's Limerick' was broadcast on 13 April 1982.