Donald Taylor Black, one of Ireland's foremost documentary makers, has gone inside Mountjoy to report on life in a troubled place.
Governor John Lonergan describes the perception that the public have of the prison,
Mountjoy today is associated with every negative aspect of crime and in many cases it is the first institution or the first area that's sort of taken the blunt of the criticism. The revolving door, overcrowding, drugs, suicides. You name it. It's associated with Mountjoy.
Speaking to the RTÉ Guide ahead of the broadcast in 1997, Donald Taylor Black explains his objective of telling a balanced story with input from the prisoners and those working within Mountjoy.
The Joy is not a straightforward documentary as it includes a wide cross-section of interviews. Among the interviewees are the governor and his assistants, prison officers, probation and welfare people, a chaplain and the prisoners.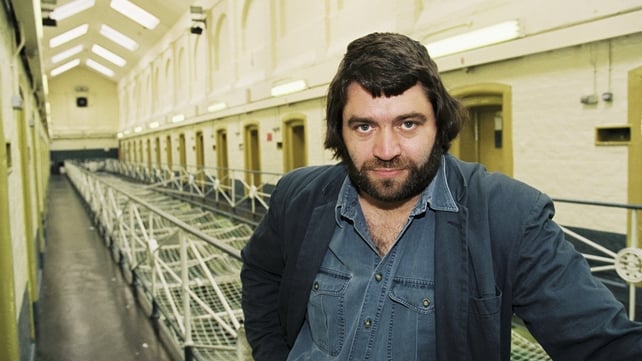 Donald Taylor Black (1997). Photograph by Des Gaffney.
The first episode of 'The Joy' was broadcast on 27 January 1997.
'The Joy' was a Poolbeg Production for RTÉ. The series was produced and directed by Donald Taylor Black.
What was different about Black's four-part series from previous films on the subject, was that instead of concealing the identity of prisoners and staff, they sought the permission to show every person in shot. 'The Joy' provided an unprecedented look inside Ireland's largest and most controversial prison. The four parts covered a day in the life, the prison drugs scene, the female prison and a final programme called 'Them and Us' charting the relationship between the prisoners and prison officers during a hostage crisis and prison siege. The production team spent six weeks in Mountjoy during the summer and autumn of 1996.

Viewing figures for 'The Joy' were unprecedented for a documentary series averaging 796,000 viewers per episode and 56.7% audience share. Episode 3 'In The Female Prison' was watched by 877,000 people and had an audience share of 62.1%.