Music from Horslips and some amusing characters created by John Molloy.
A mixture of comedy sketches, mime and the occasional tune, 'John Molloy's Dublin' is a unique programme, in which actor John Molloy uses his many talents to bring to life a host Dublin characters.
Wanders through Dublin John Molloy comes across a series of eccentric characters, all of whom are played by the inimitable Molloy.
The sound of loud music, attracts John Molloy's attention on Baggot Street looking up he sees the band Horslips performing 'King of the Fairies' on the roof of the Bank of Ireland headquarters. Horslips line-up features Eamon Carr on drums, Charles O'Connor on fiddle, Jim Lockhart on keyboards/tin whistle, Barry Devlin on bass and Johnny Fean on guitar.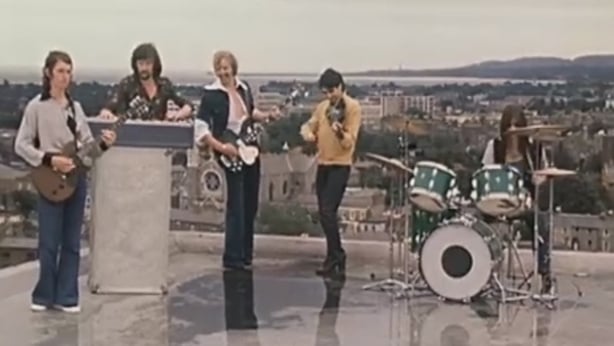 Horslips on the roof of Bank of Ireland on Baggot Street, Dublin (1976)
John Molloy continues his stroll through Dublin and encounters a workman grappling with a large bath. Having manoeuvred the bath down some steps the man then mounts a bicycle and with the bath on his back cycles away..
Cautiously going through a gate in a stone wall where he enters the National Botanic Gardens in Glasnevin. He inspects some of the labels on the plants in one of the glass houses discovers one named 'Alicia Cooperiae Raribus' which leads him to an interesting encounter with Alice Cooper.
'John Molloy's Dublin' was first broadcast on 16 July 1976.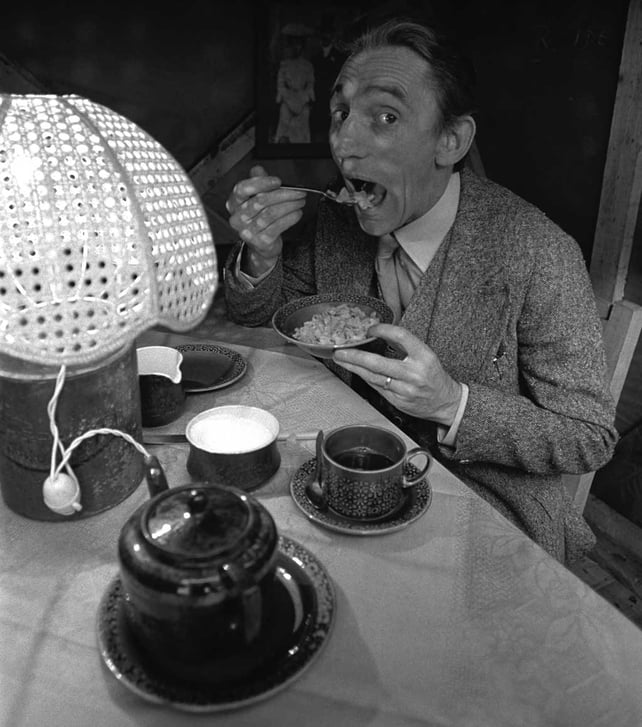 John Molloy playing a character from his Dublin repertoire in 'John Molloy's Dublin'.