Ryanair launches a new service between Dublin and Luton with two 46-seater turbo prop BAE748 aircraft. And so the first fare war in Europe begins.
Ryanair, the "no frills" airline aims to reduce cross channel airfares with the launch of its new service to London Luton and claims that
Before putting a single plane on the route they managed to bring down airfares sharply.
RTÉ reporter Mícheál Ó Briain asks
Can 40-seater turbo props compete with established airlines?
The launch fare of £99 return is less than half the price of the British Airways and Aer Lingus lowest return fare of £209. Ryanair is awaiting confirmation of further licences from the regulatory authorities for the right to fly to Paris, Amsterdam and New York. The airline is also investing in equipment, looking at possible further fare reductions and predicting a reasonable profit for 1986.
Members of the Emerald Girls' Pipe Band play on the tarmac to celebrate the inaugural flight.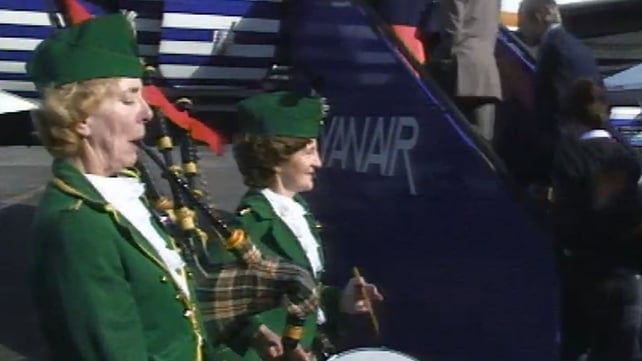 Emerald Girls' Pipe Band (1986)
An RTÉ News report by Michael O'Briain broadcast on 23 May 1986.