After months of preparation Ireland changed from pounds, shillings and pence to a new decimal currency.
George Colley the Minister for Finance responsible for the transition to decimalisation, converted his money in the College Green branch of Bank of Ireland in Dublin. He left the bank accompanied by the Chairman of the Decimal Currency Board, Seán Murray.
Minister Colley also paid a visit to Moore Street to find out how the traders there are coping with the changeover. They are having some issues with the dual currency system, and would find the system easier if the LSD coins were completely withdrawn.
When asked if decimalisation has also heralded a hike in prices the Minister replies
I've no reason whatever to believe the prices are going up wholesale, there may be cases where they are going up unjustifiably, I haven't come across them. I would hope there aren't any, but if there are any, and if they are reported, they will be dealt with very quickly.
People interviewed about the changeover, including a Limerick bus conductor and shop assistants in Belfast are reasonably upbeat about their experiences. However, one less impressed woman says
I don't like those small coins at all. They're horrid. I don't mind the big ones really, they're OK.
Seán Murray is confident the changeover has been a success
As far as the banks are concerned I think the secret of success was the deployment of trained staff, from back-room work to counter duties, where they were fully qualified to explain the implications of the new system to customers, particularly the elderly.
An RTÉ News report broadcast on 15 February 1971. The reporters are John McAleese and Arthur Quinlan. Some of the sequences are mute.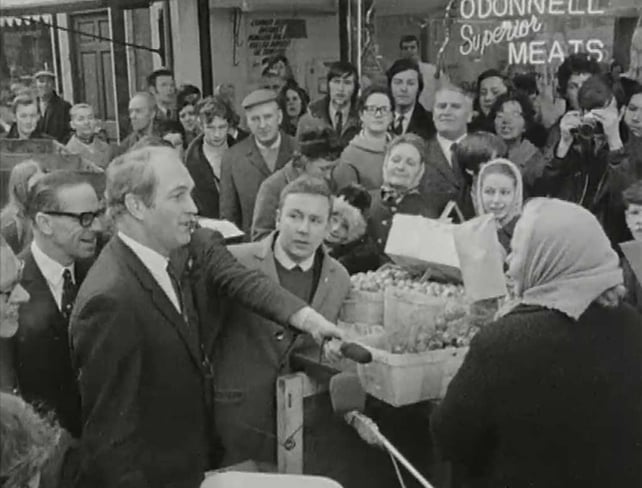 George Colley on Moore Street in 1971