The Anglo-Irish Treaty was signed by the Taoiseach Garret FitzGerald and the British Prime Minister Margaret Thatcher.
After the signing of the treaty at Hillsborough Castle, County Down, FitzGerald and Thatcher held a joint news conference where they both issued statements and answered questions from the press.

Both leaders sought to reassure Unionists with Garret FitzGerald stating
Irish political unity would come about only with the consent of a majority.
Margaret Thatcher further commented there would be
No change in the status of Northern Ireland without their consent. The legitimacy of the unionists position has been recognised by the Republic in a formal international agreement.
Both see the agreement as a stepping stone to devolve powers in Northern Ireland.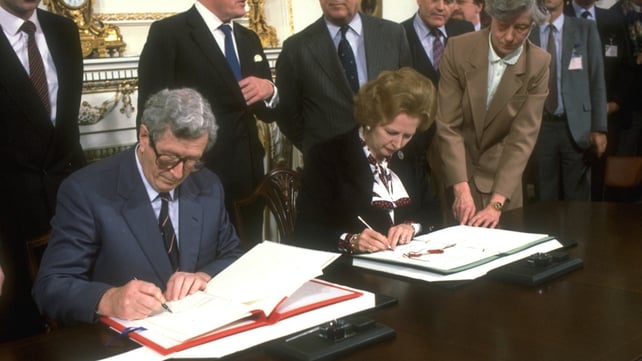 Garret Fitzgerald and Margaret Thatcher at the signing of the Anglo-Irish Agreement
Under the treaty, the Republic of Ireland would now have an advisory role in Northern Ireland's government. However, there would be no change to the constitutional position of Northern Ireland.
RTÉ News reports from the press conference on 15 November 1985.