The Irish ban on divorce was the topic of a studio panel discussion on 'Seven Days' in 1975.
Family law campaigner Mary Banotti, who would later represent Dublin in the European Parliament for 20 years as an MEP, and whose own marriage had broken down, tells presenter John O'Donoghue what she thinks of the Irish law.
Banotti believes that academics and the church are intellectualising the subject of divorce while people suffer, commenting that
There is a great need for humanisation of laws and acceptance. Let the laws accept the human condition as it actually is.
Church of Ireland Reverend James Martin agrees that the law should be changed as it doesn't take into account the complexity of the marriage relationship, which can decay and die, commenting
There ought to be the possibility of release from that kind of marital imprisonment and the opportunity to build a new marriage in a new way.
Other panellists on the show included John Kelly TD, Joe Brennan TD, Father Sean Fagan, and UCD Law Lecturer Mary Matthews.
Divorce was introduced in Ireland twenty years later in 1995 following a referendum which resulted in 50.28% of the electorate voting in favour of a change to the constitution.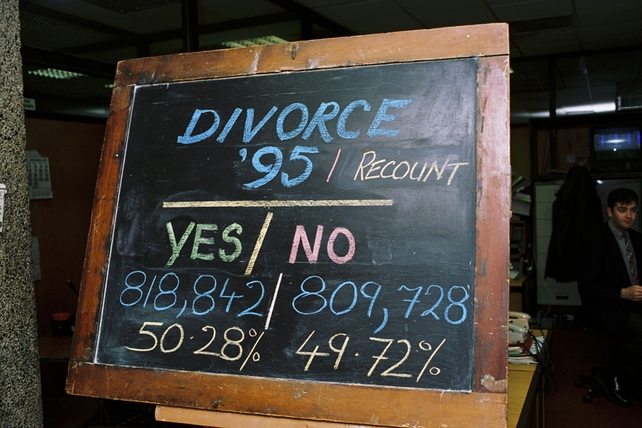 Divorce Referendum Result (1995)
This episode of 'Seven Days' was broadcast on 27 May 1975.