Private John O'Mahony returns home from Lebanon on a stretcher having been shot and injured.
Tom McCaughren reports from Dublin airport, where the 46th Battalion arrives home from service in Lebanon.
Private John O'Mahony who was shot three times while on patrol in Lebanon is carried off the plane on a stretcher.
Cmdt Peter Daly talks to Tom McCaughren about Private O'Mahony's condition and what happened to him. Minister for Defence, Padraig Faulkner, greets the soldiers as they disembark the plane.
John O'Mahony was one of three Irish soldiers abducted while serving with the UN Interim Force in Lebanon (Unifil) in April 1980. Two other soldiers, Privates Derek Smallhorne and Thomas Barrett were tortured and executed, allegedly by Mahmoud Bazzi of the South Lebanese Army (SLA).
The 46th Battalion served as peace keepers in Lebanon from November 1979 to April 1980.
An RTÉ News report broadcast on 23 April 1980. The reporter is Tom McCaughren.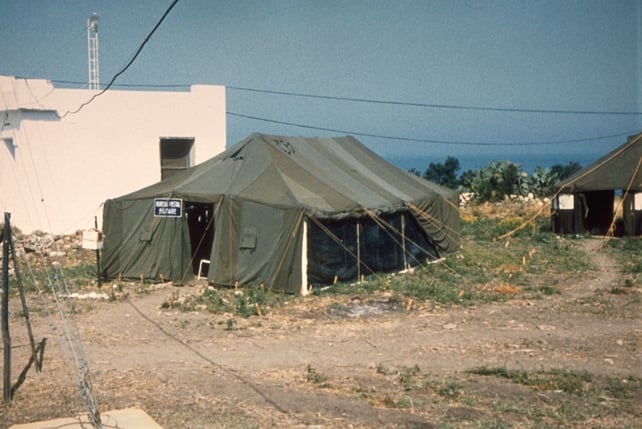 Irish United Nations Camp, Tibnin, Lebanon (1980)