David Thomson on his memoirs of Woodbrook House, Co. Roscommon.
Presenter Cathal O'Shannon interviewed writer David Thomson at his London home for RTÉ's media magazine programme 'Only Connect' in 1975. The previous year, Thomson had published 'Woodbrook', a memoir of the time he spent as a young man tutoring Phoebe Kirkwood of Woodbrook House in Co. Roscommon during the 1930s. The Kirkwood family came to Ireland as Cromwellian planters in the seventeenth century. Much of Woodbrook's land was sold to a golf club in 1946. The house itself was sold to the Maxwell family, the pre-Cromwellian owners of the property.
O'Shannon asks Thomson if there was anything Anglo-Irish families like the Kirkwoods might have done to stave off having to sell up. They discuss the Kirkwoods' place in Irish society and how Roscommon has changed since the 1930s.
This edition of 'Only Connect' was broadcast on 30 January 1975. The presenter is Cathal O'Shannon.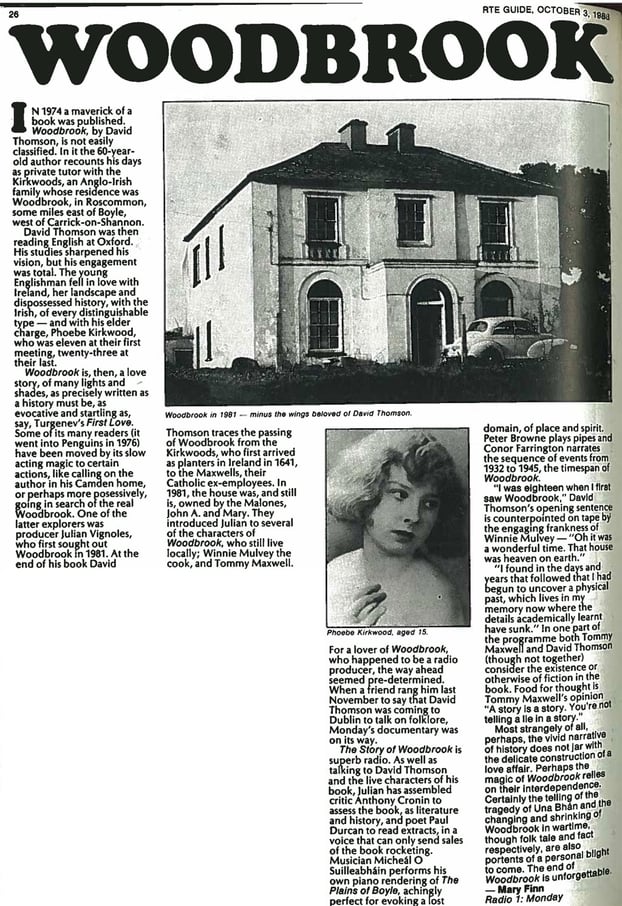 RTÉ Guide Article on 'Woodbrook', published 3 October 1986
For more on Woodbrook House, listen to the RTÉ Documentary on One The Story of Woodbrook.